Downtown Leasing Spree Backed by Latest Data
---
---
Downtown's strong leasing trend continued in March with the ninth consecutive month of leasing above the five-year monthly average, according to a new CBRE report.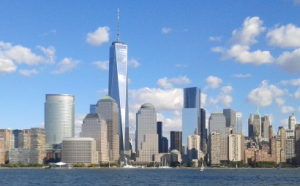 The 590,000 square feet of activity recorded in March was 51% above the five-year monthly average of 390,000 square feet, helped along by Macmillan Publishers' 177,000-square-foot lease at 1 New York Plaza, first reported in Commercial Observer and the largest lease signed in Manhattan during the month.
The first three months of the year netted the highest year-to-date total since 2002, with total leasing of 1.62 million square feet, which was an 18% jump from the same period last year.
"Driven by the upward repricing of available space," average asking rents Downtown also increased for the fourth consecutive month, up 4% year-over-year to $48.70 per square foot, according to the report.
Total Manhattan leasing activity in March totaled 1.96 million square feet, slightly lower than the five-year monthly average of 2.01 million square feet, but 9% percent higher than the 1.79 million square feet of activity last March.
Midtown Leasing activity slowed during March, with a total of 990,000 square feet of space leased, but Midtown South experienced its fourth consecutive month above the five-year monthly average with 380,000 square feet of leasing activity. Pricing was $74.27 per square foot and $63.05 per square foot, in Midtown and Midtown South, respectively.