Donald Trump Interested in Buying Buffalo Bills
---
---
Donald Trump is interested in buying the National Football League's Buffalo Bills franchise and keeping the team in Western New York, according to The Buffalo News.
"I'm going to give it a heavy shot," Mr. Trump told the paper on Monday. "I would love to do it, and if I can do it, I'm keeping it in Buffalo."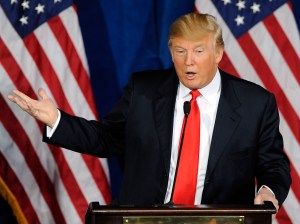 Mr. Trump is no stranger to ownership of a professional sports franchise. The real estate investor and entrepreneur previously owned the New Jersey Generals of the defunct United States Football League. (Mr. Trump is the father-in-law of Jared Kushner, publisher of Commercial Observer.)
There is no price tag on the Bills but Forbes estimates the franchise is worth $870 million. The same publication puts Mr. Trump's net worth at $3.9 billion.
Should Mr. Trump's interest in the Bills become more formal, he would be required to sell his ownership stakes in the Trump Taj Mahal and Trump Plaza casinos in Atlantic City because the NFL prohibits personnel from being involved in gambling in any form. Mr. Trump's stake in the casinos could be easily divested, he told The News.
"It's a public company, and I could sell instantaneously," he said. "So that wouldn't be a conflict at all. I did very well with Atlantic City. It was a great experience. When we sold the casinos, they didn't change the name. But I'm not involved, not on the board."
Mr. Trump could join the Related Companies' Stephen Ross in the elite club of NFL owners. Mr. Ross acquired a 50 percent share in the Miami Dolphins franchise from Wayne Huizenga for $550 million in 2008. In early 2009, he acquired a further 45 percent stake, with the entire deal valued at over $1 billion.
The future of the Bills franchise has perennially been called into question and the issue has gained traction since Ralph Wilson Jr., the team's founding owner, died last month. The team has often been rumored to be a candidate for relocation, either to Los Angeles or Toronto. The Bills began hosting both preseason and regular season games in Toronto in 2008, which has done little to quiet those rumors.