Deutsche Bank Originates $185M CMBS Loan for Luxury Manhattan Hotel
---
---
Deutsche Bank provided acquisition financing to Qatar's Constellation Hotel Holdings for its 80 percent stake in the InterContinental New York Barclay on Manhattan's East Side from InterContinental Hotels Group.
The global banking and financial services company originated $185 million in debt with a total commitment of $240 million, a person familiar with the transaction told Mortgage Observer on background. The $55 million of additional proceeds will be funded for upgrades on the hotel over the term of the loan, which closed on March 31, that person said.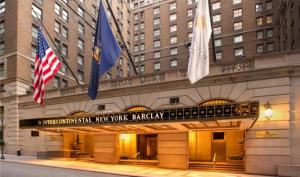 Deutsche Bank plans to syndicate portions of the loan to other banks over the coming months, the person added on the condition of anonymity. A spokesperson for the bank declined to comment.
Commercial Mortgage Alert inaccurately reported two weeks ago that Bank of America had agreed to write a $195 million floating-rate loan on the luxury hotel at 111 East 48th Street. That loan was for InterContinental New York Times Square at 300 West 44th Street, a different hotel owned by IHG, according to another source familiar with that deal. Bank of America declined to comment.
The London-based multinational hotels company put the InterContinental New York Barclay up for sale in fall 2013 and later agreed to a joint ownership deal with Constellation Hotel Holdings. The new majority owner paid $240 million for its 80 percent stake. JLL's hotels & hospitality group arranged the transaction, which was first announced in December 2013 and closed at the same time as the Deutsche Bank loan.
The joint owners plan to refurbish the 14-story hotel, which contains 685 guest rooms, as well as restaurants, a fitness center and meeting space. The Vanderbilt family opened the Barclay in 1926 and IHG acquired the property in 1978.