CIT Finances Former J&R Music World Transformation
---
---
A classic city block is getting ready for a big change. CIT Real Estate Finance provided a $25 million land loan on two non-contiguous retail buildings at 23 and 31 Park Row in Lower Manhattan, sources familiar with the transaction told Mortgage Observer exclusively. The buildings are both former J&R Music and Computer World stores.
The three-year financing was provided to a joint venture between J&R co-founder Rachelle Friedman and the prolific multifamily developer L+M Development Partners. L+M, co-founded by Ron Moelis, acquired its stake in the two buildings for $36.2 million on April 10, the same day the loan from CIT closed, public records show. Massey Knakal Realty Services brokered the financing.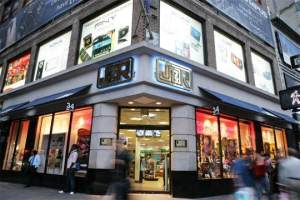 The land loan allows the borrowers to do residential construction and the JV partners may look to redevelop the Park Row buildings to include rental apartments or condominium units, a person familiar with the transaction said on the condition of anonymity. A representative for L+M confirmed the recent partnership, but was unable to provide further details in time for publication.
The block-long property is due to undergo a major overhaul—starting with the April 10 closing of the last two J&R stores—Ms. Friedman (R) and her husband Joe (J) announced in a statement earlier this month. "J&R will close its doors so that we can rebuild this location into what we hope will be an unprecedented retailing concept and social mecca," their statement read.
Over the past four decades Mr. and Ms. Friedman had expanded their operation to comprise multiple J&R stores throughout the block located near City Hall. The music and electronics retailer then consolidated its stores to 1 and 15 Park Row last year with the accessories retailer Ricky's signing two short-term leases in the former J&R buildings. All of the Park Row buildings have now been shuttered for the upcoming redevelopment.
Multifamily rents in the neighborhood are close to $4,000 a month, while the vacancy rate is about 2.6 percent, according to late 2013 numbers from the commercial real estate data provider Reis.
L+M, which has spent more than $2.5 billion developing and investing in real estate, has created and preserved more than 15,000 residential units since the company was founded in 1984, according to the developer's website.
Mr. and Ms. Friedman, who separately immigrated to Brooklyn from Israel more than 40 years ago, founded J&R as a basement record store in 1971.
"As part of these evolutions, we, too, have to continue to adapt to the technology, retailing and real estate trends," their recent statement read.
Ms. Friedman could not be reached for comment. A spokesperson for CIT declined to comment. Massey Knakal did not return requests for comment in time for publication.