Charles Cohen Parachutes Marc Horowitz in to Turn Properties Around
---
---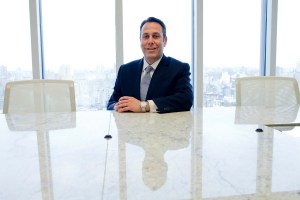 Charles Cohen, the president and chief executive of Cohen Brothers Realty Corporation, knows he can parachute Marc Horowitz into the middle of a leasing nightmare and Mr. Horowitz will turn the situation around.
"Marc is the most creative, instinctive and resourceful in-house commercial leasing broker I've ever been associated with, hands down," said Mr. Cohen.
Mr. Horowitz proved that with Cohen Brothers' Westchester County property, a 39-acre, 500,000-square-foot White Plains office campus that is 75 to 80 percent leased. Most recently, Reis, USI, Prager Metis, USA Vision Systems and CURE signed leases at the site. And RCM Technologies is slated to move in in four to five months.
"It was a struggling property," Mr. Horowitz said of 333 Westchester Avenue, which was the original relocation headquarters of General Foods Corporation in the 1950s. And it has been a real feat because in the area "there are a lot of buildings and not enough tenants."
Mr. Cohen purchased the property from Phillip Morris in 1998, renovated the complex and repositioned it as a multi-tenant property with the help of architect Philip Johnson in 2000.
Following that success, Mr. Cohen tapped Mr. Horowitz to handle DCOTA, or Design Center of the Americas, in Dania Beach, Fla.
"It was an overdeveloped design center," Mr. Horowitz said. So Cohen Brothers took 250,000 square feet and turned it into an office center. To date, he and his leasing team have leased 150,000 to 180,000 square feet of it.
After that success Mr. Horowitz was charged a year ago with leasing the Green Building, designed by Pelli Clarke Pelli Architect, the third phase of a three-part composition in West Hollywood that includes the Red Building and the Blue Building. The Green Building is about 90 percent occupied today. Now he's working on the Red Building, the other commercial building on the site. It was recently completed and has generated a lot of interest, Mr. Horowitz said.
"I had success wherever he put me," Mr. Horowitz, 43, said matter-of-factly when asked how he moved so quickly from senior vice president to head of leasing.
Mr. Horowitz is the director of office leasing at Cohen Brothers, a position he was promoted to last month, six months after making the jump to senior vice president at the firm. He oversees leasing for the firm's national portfolio, which includes 12 million square feet across New York City, Westchester, South Florida, Texas and California. He also handles strategic planning, business generation, recruitment and project development for the firm.
Mr. Horowitz recently represented Cohen Brothers in a 12-year leasing deal at the firm's 622 Third Avenue with Cooper-Horowitz Inc., a commercial real estate mortgage brokerage firm. The building is 1 million square feet and located between 40th and 41st Streets. He also represented the landlord in HAP Investments' nine-and-a-half year lease for the entire 11,200-square-foot 15th floor of Cohen Brothers' 3 East 54th Street, a 20-story, 200,000-square-foot building.
Mr. Horowitz has two New York City employees based out of the company's offices at 750 Lexington Avenue, plus more in other cities. And he is filling two positions within the next few weeks. For the bulk of Cohen Brothers' leasing, Mr. Horowitz hires agency teams to help with the showings and to perform outreach.
For example, in 2013, the digital analytics company Return Path Inc. signed a full-floor, 23,280-square-foot lease for the entire 41st floor at 3 Park Avenue. Mr. Horowitz represented Cohen Brothers along with three Cushman & Wakefield brokers.
"My strongest asset is broker relationships," Mr. Horowitz said.
At the former Borders store at 461-465 Park Avenue (at 57th Street), Mr. Horowitz brought on board Bradley Mendelson of Cushman & Wakefield to market the retail space and Paul Wexler, the leader of the Wexler Healthcare Properties Team at the Corcoran Group, to market the medical offices on the upper portion, as Commercial Observer previously reported.
"We have interest from both retailers and medical office tenants currently," Mr. Horowitz said.
David Fogel, a senior vice president at Cohen Brothers who handles the financing and acquisitions for the company, described Mr. Horowitz as "a high-energy individual, very results-driven. He's handling a very varied portfolio and he's been highly successful at achieving the goals he sets for himself and that the company sets for him. He's personable and focused on what he's doing. He's easy to get along with."
In his first three-and-a-half years handling leasing for the firm in Manhattan, Mr. Horowitz executed more than 1 million square feet of transactions.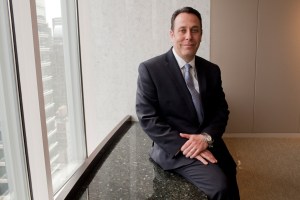 Prior to joining Cohen Brothers five years ago, Mr. Horowitz worked for 12 years as a broker and agent with the Kaufman Organization. There he worked on the tenant representation side and was given the opportunity to also do agency work.
He left for Cohen Brothers because of the company's sterling Class A portfolio, most of which was designed by Pelli Clarke Pelli Architects.
"I knew I could attract good tenants," Mr. Horowitz said. Also, he liked that Mr. Cohen "didn't need to fight for the last dollar."
That is evident at 475 Park Avenue, where Cohen Brothers is finishing up a $40 million renovation, as Commercial Observer previously reported. The renovation wasn't actually necessary because the building was in good shape, Mr. Horowitz said, but Mr. Cohen "is always reinvesting in his properties."
He added: "Nobody's spending that kind of money" for a commercial building. "It will be the nicest [commercial] building, hands down, on Park Avenue South, that exists."
Cohen Realty's portfolio has been receiving a lot of attention, especially from technology-related businesses at 475 Park Avenue South and 3 Park Avenue.
"We're seeing a lot of volume now in a market in which it's harder to get bigger deals done," Mr. Horowitz said, attributing the success to the quality of the product, brokers feeling secure that they can get deals done with the firm and Mr. Cohen not scrimping in a market in which tenants are looking for a deal.
Mr. Horowitz's easy-going nature makes him a joy to work with, colleagues and competitors said.
Cintra Software & Service Inc. signed an 8,000-square-foot, 10-year lease on the 32nd floor of 3 Park Avenue last year. Mr. Horowitz represented Cohen Brothers while Alan Bonett and Brad Cohn, both of Adams & Co. Real Estate, represented the tenant.
"What was key in working with Marc was how easy and painless he made it in completing my deal with the landlord," said Mr. Bonett, an executive managing director at Adams & Co. In particular, Mr. Bonett added, "he was a big help in getting some key items worked out in the lease negotiating."
Mr. Horowitz said he and Mr. Cohen socialize as colleagues and as friends and are often joined by their wives. He describes Cohen Brothers as a family-oriented place. But despite the name and what people tend to believe, that cohesiveness is not due to multiple Cohens working there. The firm was founded by Mr. Cohen's father and his two brothers in 1950, but they have all since died, leaving Mr. Cohen to run the company on his own.
Mr. Cohen has taught him "how to be flexible, paying very close attention to details, always confirming what people tell me, but most of all, always thinking like the owner of this portfolio when I am making deals," Mr. Horowitz said.
Mr. Horowitz plans to remain at Cohen Brothers forever. When he made the move to the firm, it was with the intention that it "will be for the rest of my career." He added: "I think Charles and I will be together for a long time. He's threatened it."