Carmel Partners Receives Acquisition Financing for 15 Cliff Street Brokered by Meridian
---
---
Meridian Capital Group arranged a $58.6 million acquisition loan on behalf of San Francisco, Calif.-based Carmel Partners for its purchase of a mixed residential and commercial condominium building at 15 Cliff Street in Manhattan's Financial District, Mortgage Observer has first learned.
The seven-year mortgage—provided by Santander Bank according to one person familiar with the transaction—features an interest-only component and has a floating-rate that was swapped to a fixed-rate for a portion of the term. The loan closed on March 28.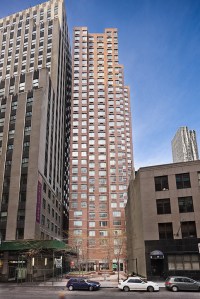 Executive Vice President Aaron Birnbaum, based in Meridian's New York City headquarters, and Managing Director Seth K. Grossman, based in the company's Carlsbad, Calif., office, negotiated the deal. Meridian declined to name the lender.
"The complexities of this transaction were multifaceted as the apartments and retail portions of the building were held in separate condominium interests and Carmel Partners' business plan includes a significant renovation program to augment income," Mr. Grossman said. "Closing this financing is a reflection of the lender's creativity and flexibility for loans to market-leading sponsorship," he added.
Carmel bought the building from Lake Success, N.Y.-based Lalezarian Properties for $95 million on January 9. Lalezarian had acquired the property from Rockrose Development Corp. for $83 million in 2007, public records show.
The 30-story building at 15 Cliff Street contains 156 apartment units and ground-floor retail space, as well as a fitness center, an on-site cafe and a rooftop garden.