Breaking Barriers: Richard Bernstein and Peter Hennessy on Cassidy Turley's Star Turn
---
---
"If I could knock this wall down I would," said Peter Hennessy, pointing through a glass enclosure that separates his office from a row of open workstations within the 42nd floor of Cassidy Turley's 277 Park Avenue offices.
Mr. Hennessy, the tristate president at the firm, will likely get his wish if Cassidy Turley continues to literally and figuratively break down the barriers that once separated its business lines by expanding the consulting practice that he and Richard Bernstein, the firm's executive vice chairman and principal, said is crucial to the company's future.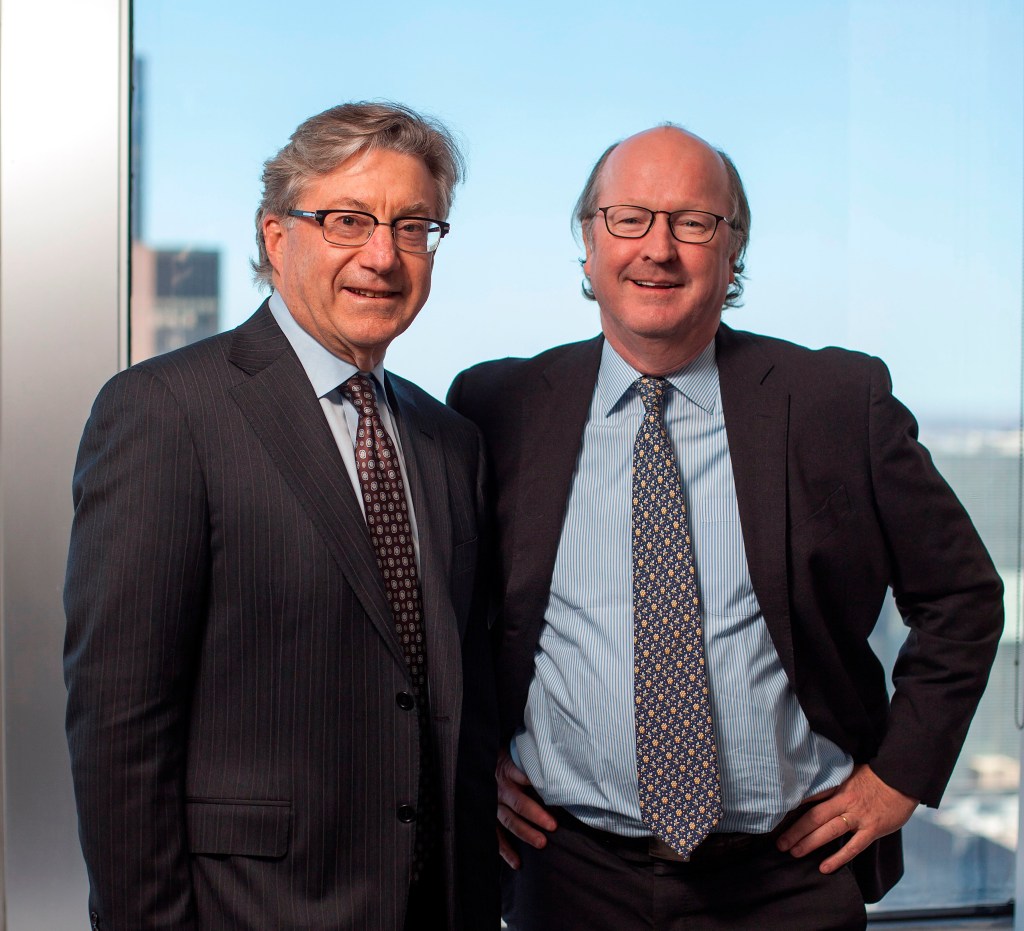 Since 2010, the year Mr. Hennessy joined the firm, Cassidy Turley's New York office has grown to 205 employees, up from 159 in 2010. Most, if not all, of those positions are consulting roles. The firm looks to grow the figure by another 50 percent in the coming three and a half years, Mr. Hennessy said.
The growth will be contained within the firm's existing two floors (42 and 43) at 277 Park Avenue, meaning that any remaining partitions that exist throughout the offices will come down soon enough, fostering a more collaborative environment and producing efficiencies that the duo hopes will ultimately help the firm give the industry's largest players a run for their money.
"This is a traditional old mainline business, but we're moving into a new way to do that business," Mr. Hennessy said.
"Just take a look out there," he said, pointing to the brokers and new business development associates who work diligently, if not frantically, across a sun-soaked swath of the floor plate. "They are in a trading-desk environment."
There's no way that the 26 people seated directly outside his office would be able to fit in a traditional cubicle environment, he noted. Cubes are a thing of the past, and all corner offices have been removed to make way for open-air conference rooms, erasing the old-style "ivory corner office mentality."
In the coming months, the firm will bring its growing consultancy business down from the 43rd to the 42nd floor, giving the brokers easier access to a part of the business that has become crucial in competing with the city's top firms—the CBREs, JLLs and Cushman & Wakefields of the business.
The goal is not to create one of the top real estate brokerages, but a top "real estate solutions" company that addresses everything from financial modeling to transportation issues.
Mr. Hennessy is focused on expanding the firm's real estate services in the Northeast while overseeing the tristate team, which includes nearly 400 people. He is responsible for the overall strategic focus, growth, and profitability of the business. While he continues to close deals, his role has evolved into one of mentorship, striving to motivate and encourage both junior and senior staffers to succeed as part of one efficient team.
"You know why they call it teamwork? Because teams work better," he said.
But that doesn't mean fitting all the brokers into a neat little box. On the contrary, Cassidy Turley maintains a flexible approach when it comes to brokers, employing pay structures based on the risk profile of the individual employee. That means a different mix of commissions, salaries and bonuses for individual brokers.
"Most of the other organizations' compensation structure fits into a box, but that doesn't necessarily work for everybody," Mr. Hennessy said. "A very good salesperson, out on the street every day, is like the short stop. He isn't a pitcher. But we want him to play short stop while these other business lines help him to be more efficient."
The overall approach is proving priceless. Revenue per Cassidy Turley broker increased 24 percent over the last three years. But broker head count remained flat as the number of consultants in project management, property management and financing grew to fill continued demand from clients seeking a higher level of sophistication when it comes to the effects of a multifaceted real estate business and its impacts on balance sheets.
"That's where we're improving the talent base—in those sectors that will give our brokerage professionals and clients what they need to succeed," Mr. Hennessy said.
The physical changes reshaping Cassidy Turley's office space are the perfect paradigm for the plethora of tenants the firm advises. Many are growing in terms of head count while shrinking their spaces to create greater efficiency and lower operating costs. In many instances this has freed up additional space to increase revenue through the subleasing of space that is no longer needed.
"This has improved so many businesses across most sectors and it's reflective of new work patterns and greater efficiencies," Mr. Bernstein said. "This means you have to collaborate more with various field area experts to provide new types of solutions to the client."
Mr. Bernstein, a 20-year industry veteran, sits on the firm's board of directors and is responsible for expanding its transaction management practice as well as helping to govern its strategic direction. His clients have ranged from The New York Times to Random House and Aegis.
"What makes us effective is that invariably you're called upon to do many of those things," he said. "As we look ahead to the next five to 10 years we know that our clients will continue to request additional services and not just transactions."
This comes as owners continue to "grow buildings" as they renovate and reposition them, Mr. Bernstein and Mr. Hennessy noted. While the Real Estate Board of New York governs the way floors are measured, landlords vacating and overhauling space continue to increase the square footage of their floors. This means that the same floor will become more expensive—even if asking rents stay the same—as landlords create more open space.
"We are able to give clarity to occupiers so they can make educated decisions as this phenomenon continues," Mr. Hennessy said. "We educate them in terms of metrics, not rent per square foot or aggregate square footage. It's about how many people I will be able to seat for the rent I'm going to pay."
The publisher Random House called upon the firm to reintegrate its employees at 1745 Broadway in order to foster collaboration (sound familiar?), while also demanding significant cost savings. Cassidy Turley devised a workplace strategy that reduced its footprint by almost 50 percent.
The firm restacked the publishing house between late 2012 and early 2013 onto floors two through 14. Then, through 2013 Cassidy Turley completely subleased the tenant's previous footprint across floors 15 through 24 to a range of users including Process Driven Trading, Ogletree Deakins, and Spielman Koenigsberg & Parker. Meanwhile, employee head count at Random House increased from 90 to 120.
"When the dust settled, the employees were happier. There was more natural light, more auxiliary space to meet and integrate, and at the same time we drove down occupancy costs," Mr. Bernstein said.
A similar story is playing out at 1185 Avenue of the Americas, where the international law firm King & Spalding occupied eight floors at its peak. The firm now occupies five floors and will soon restack to four, leaving the remaining four floors, measuring roughly 29,000 square feet each, for sublease.
King & Spalding has reduced the number of employees in its New York offices, but to nowhere near a commensurate level with the reduction in square footage. Cassidy Turley is targeting professional services, law and private equity firms to fill the space, Mr. Bernstein said.
Among notable recent deals, Cassidy Turley executed a 69,000-square-foot HAKS Engineering lease at 40 Wall Street and H&M's 48,846 square feet at 110 Fifth Avenue last year. Earlier this year, it signed the College Board to 145,446 square feet at 250 Vesey Street, Collective Media to 58,000 square feet at 229 West 43rd Street and the Fashion Institute of Technology to 55,000 square feet at 333 Seventh Avenue.
The firm was also recently named the property manager at J.P. Morgan's 125 West 55th Street, an example of the repeat business it maintains from long-standing relationships. Mr. Bernstein's work with J.P. Morgan has included a myriad of assignments, from subleasing excess space to crafting the bank's New York strategy and managing its $70 million portfolio, from city office buildings to suburban shopping centers.
On a national basis the duo said it considers Cassidy Turley to now rank among the top four or five firms in the country in terms of revenue, number of brokers and growing property management and consulting businesses.
"The challenge going forward is to gain the breadth of strength and size but to also grow efficiently in order not to stifle the existing client connections that we have and need going forward," Mr. Hennessy said. "While we want to be larger, I think we all are of the mind-set that we don't want to be too big."
Asked when he anticipates hitting the ultimate target: "We'll never reach it," he said. "This is a living, breathing organism. We have to grow and do things differently on a consistent basis over time or we're going to die."
1185 Avenue of the Americas
,
125 West 55th Street
,
1745 Broadway
,
277 Park Avenue
,
40 wall street
,
Aegis
,
Cassidy Turley
,
Fashion Institute of Technology
,
H&M
,
HAKS Engineering
,
King & Spalding
,
Peter Hennessy
,
Random House
,
Richard Bernstein
,
CBRE
,
Cushman & Wakefield
,
JLL
,
JPMorgan Chase
,
Real Estate Board of New York