We Are the 1%: Lower Manhattan's Luxury Condos and Upscale Retail May Only Widen the Gap
---
---
Gleaming new skyscrapers. Swarms of young pedestrians. Cutting edge tech and creative office tenants. High-end retail. Sprouting condo towers. A new transportation hub.  
This isn't a city of the future—it's the "New Downtown," as Francis Greenburger of Time Equities described it to Commercial Observer last week. 
The submarket's comeback is undoubtedly remarkable and a boon for the real estate industry. But the prosperity has also sparked more than a dozen residential development projects, at least a handful of which are high-end, luxury buildings, which will make Downtown Manhattan a destination for the city and world's most well-to-do, broadening a wealth gap that the city's top dog wants so badly to mend.       
"It's definitely a very affluent crowd," said Daniel McInerney, the vice president at Taconic Investment Partners, referring to the clientele scoping out The Sterling Mason, a 32-unit luxury condo building that his firm just topped off in prime Tribeca.
Pricing at the building starts at $3.9 million for a two-bedroom and shoots to $23 million for its two penthouses (one of which is under contract for $21 million), with a roster that will likely include a mix of foreign investors and domestic families.  
"We are seeing interest at prices that are double what we had anticipated pro forma two years ago," he said. "You won't get those prices at every location, but we are big believers in Downtown and it's gotten very competitive over the last couple of years." 
The growth and vitality of Downtown is perhaps best personified by the rise of 1 World Trade Center, accompanied by unprecedented progress in retail development, new hotels, boosts to tourism pushed along by the popularity of the National September 11 Memorial & Museum and a plethora of new office tenants filtering in, creating a 24/7 vibe.
"The confluence of market conditions couldn't be more ideal," said Mr. Greenburger, the founder, chairman and chief executive of Time Equities, who broke ground on what will be a 63-story, 200-unit luxury condo building at 50 West Street last year.
He was more than patient with plans at the site. In fact, he bought the lot (and the building that once stood there) way back in 1982. 
"It was a combination of financing being available, the condo market being strong and the development of what we call the 'New Downtown' occurring, and literally having millions of new feet of office retail and transportation delivered at the same time," he said.   
Upscale condos are rising across lower Manhattan, and they are pushing a high standard of living. Downtown will be less affordable—even for someone making a triple-digit salary—at a time when Mayor Bill de Blasio is hell-bent on shrinking the income gap across the city by taxing the rich and funding pre-K programs. 
Data from the City University of New York shows that the median household income of the upper 1 percent across the city increased by nearly 60 percent between 1990 and 2010 to $716,625, and the wealthy now control a bigger share of wealth and the middle class controls less. The bottom 20 percent in the CUNY study earned $14,168 in 2010.   
Even with the latest U.S. Census Bureau data showing that the median household income is $68,370 across Manhattan, most of Downtown's new housing stock will be a tough sell for any family pulling even double that.  
"This is the fastest-growing residential area in the city," said Douglas Elliman's Ariel Cohen, who is leading sales efforts on behalf of his firm, the exclusive sales and marketing agent at 75 Wall Street, a luxury hotel and condo conversion. "Downtown used to be looked at as a value play, but that's no longer the case."  
"It's unbelievable," he added. "Two years ago, the prices were 20 percent less."     
Mr. Cohen referred to a recent $1,800 per square foot sale of a studio as an "epic transaction," noting that his goal is to achieve $1,900 next, and $2,000 after that. The figures, while notable, pale in comparison to the converted condos atop the Woolworth Building at 233 Broadway, which sources said are grabbing $3000 per square foot, or the Four Seasons Residences at 30 Park Place, with asking prices in the high-$3000s.  
While Mr. Greenburger declined to specify pricing at 50 West, he called the upcoming residential building stock "moderate high-end"—when compared to prime areas around Central Park, for instance. He added: "If there were no high-end housing to consider, then they wouldn't be able to live there," referring to those seeking a luxury lifestyle.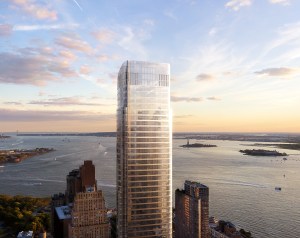 On that note, a report from the Alliance for Downtown New York shows at least 13 residential development projects of varying sizes under construction in lower Manhattan, which will help add more than 2,500 residential units in the coming years. 
In addition to 50 West Street and the 157-unit Four Seasons Residences, that includes a new 460-unit condo building at 112-120 Fulton Street by Lightstone Group, a new 200-unit offering at 101 Murray Street, a 644-unit rental conversion at 70 Pine Street and a 68-unit hotel/condo conversion at 5 Beekman Street, among others. 
David Schechtman, an executive managing director at Eastern Consolidated, is marketing a 60-unit residential rental conversion at 110-112 Greenwich Street. Taking an estimated average rent of $8,000 per month, per apartment, he admitted that a person's income would have to nearly double the $96,000 it would take just to afford rent in the building.    
There are certainly different degrees of luxury. Bernard and Robert Friedman have developed The Lara, for instance, a brand-new rental building at 113 Nassau Street where studios start at $2,730 per month and rents range to $5,825 per month for a three-bedroom, the latter of which is well below the average even among the existing housing stock. 
Also, some of the developments cited by the Alliance for Downtown are dormitories, while others across Downtown will have low-income and affordable housing components, especially if Mayor de Blasio gets his way. But will the new housing coming up overall bring a more affluent crowd?
"It's inevitable," said Will Suarez, a director of sales at Massey Knakal, which is selling a 271,000-square-foot development site on Greenwich Street. "We believe pretty firmly that we are going to get over $700 a foot."
"Three percent of land in Manhattan is undeveloped. There's high demand with virtually no product and this neighborhood has mixed-use residential and hotels coming up like mad," he said. 
The Alliance for Downtown report shows that 2,370 new hotel rooms across 13 hotels are currently under construction and that 9.6 million tourists filtered through the area last year as the waterfront continued to evolve for the better despite Superstorm Sandy. 
The powerhouse financial industry, long the primary driver of the city's economy, waned following the Great Recession, but it has rebounded. Most major banks are hiring again and no longer shedding office space. As confidence returns to the financial industry, boutique finance firms are driving the surge in triple-digit leasing (over $100 per square foot) across the submarket.   
Meanwhile, a new type of office tenant has quickly stepped in to fill any gaps. Year-end leasing activity in lower Manhattan saw a 39 percent increase over 2012 and was 29 percent higher than the 10-year average, according to the report from the Alliance for Downtown.  
When Condé Nast struck its lease at the World Trade Center, it seemed to whisper into the ears of creative tenants that it was O.K. to settle into a submarket and buildings that might as well have proclaimed "finance and law firms only" in the past. 
Many, though not all, of that media company's publications–including Allure, Vogue, Glamour and GQ–appeal to sophisticated, or at least aspirational, readers. That reader might come to mirror the type of resident moving downtown, as the ritzy residential development comes to fruition in the coming years. 
Other notable tenants inking deals downtown include Revlon, which this month signed a 15-year lease for the top two floors at Brookfield Office Properties' 1 New York Plaza, joining a Downtown roster of non-financial tenants that now includes HarperCollins Publishers, GroupM Worldwide, Droga5, Davis Brody Bond, and the Institute of Culinary education, among a list of other educational organizations. 
"It's really turned into a more master-planned community, with residential, commercial, hotel and retail 24 hours a day," said Joshua Kuriloff, an executive vice chairman at Cushman & Wakefield, who represented Revlon with Jodi Roberts in the more than 91,000-square-foot lease at 1 New York Plaza.  
"There's been $30 billion in private public investment in the last decade south of Chambers Street," he said. "It was known as the insurance district or the financial services district but it's now becoming much more eclectic and diversified." 
Year-over-year office pricing increased 21.7 percent as of February, according to data from Cushman & Wakefield. At an average price of $49.02, a more than $11 discount from Midtown South, there is still plenty of room to support the wave of tenants filing into comparable Downtown space. 
But that won't last for long given the development occurring, which is particularly striking among the luxury retailers never before seen downtown that are now moving in at Brookfield Place, the South Street Seaport and, it's been rumored, Westfield's chunk of the World Trade Center site.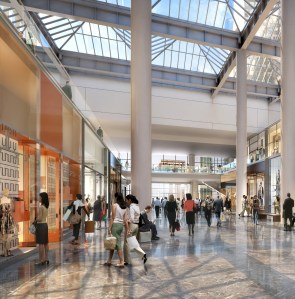 Brookfield Place's 250,000 square feet of retail space will boast a lineup that includes Michael Kors, Hermès, Calypso, Salvatore Ferragamo, Judith & Charles, Scoop NYC, Zegna and Theory, as well as lifestyle companies Bright Horizons, Equinox and Ice.
J&R Music vacated many of the retail spaces it owned along Park Row, which will be a "major development in the coming years," said Mr. Suarez, of Massey Knakal, who also noted that a Harley Davidson store, a Gourmet Garage and a TD Bank (at the base of another condo conversion) have moved in at 374, 366 and 361 Broadway, respectively.
"I think that's huge for Broadway and I think that has everything to do with these condo developments," he said. "It's been a long, long time coming." 
But it's not just the upscale or big name retailers springing up that necessarily point to affluence and a new type of resident downtown, said Mr. Schechtman, who opined that affluence has truly arrived when the mom and pops can survive off of the 24/7 vibe that is growing downtown.
"What defines an affluent neighborhood is the fact that someone can come home at 10 p.m. and get some Indian food and a $9 dollar coffee," he said. "Think Upper East Side, Chelsea, the Village. If you're in the mood for a high-quality vindaloo you can get it there, can't you? You're almost at that point downtown."
1 World Trade Center
,
101 Murray Street
,
110-112 Greenwich Street
,
112-120 Fulton Street
,
233 Broadway
,
30 Park Place
,
5 Beekman Street
,
50 West Street
,
70 Pine Street
,
Allure
,
Ariel Cohen
,
calypso
,
City University of New York
,
Conde Nast
,
Daniel McInerney
,
David Schechtman
,
Davis Brody Bond
,
Douglas Elliman
,
Droga5
,
Four Seasons Residences
,
Francis Greenburger
,
Glamour
,
GQ
,
GroupM Worldwide
,
HarperCollins Publishers
,
Hermes
,
Joshua Kuriloff
,
Judith & Charles
,
Michael Kors
,
National September 11 Memorial & Museum
,
Robert Friedman
,
Salvatore Ferragamo
,
Scoop NYC
,
The Lara
,
The Sterling Mason
,
Time Equities
,
U.S. Census Bureau
,
Vogue
,
Will Suarez
,
Zegna
,
Alliance for Downtown New York
,
Eastern Consolidated
,
Lightstone Group
,
Massey Knakal Realty Services
,
Taconic Partners