Soho Properties Shops for Temporary Park51 Space
---
---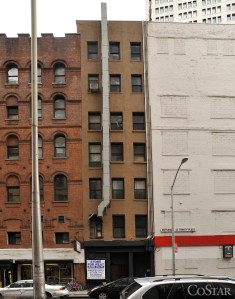 More than three years after developer Sharif El-Gamal faced a firestorm over plans for an Islamic prayer and community center in lower Manhattan, the head of Soho Properties is searching for temporary space for Park51, Commercial Observer has learned.
Yesterday afternoon, Aziz Friedrich from Soho Properties was spotted touring a 2,000-square-foot second-floor space at 44 Trinity Place, being marketed by Eastern Consolidated's James Famularo and Ravi Idnani. The asking rent for the Trinity Place space is $100 per square foot and the lease term is 10 years, according to the listing. It seems an unusual space for a center since it is above Wogies Bar & Grill. Messrs. Famularo and Idnani declined to comment.
"Park51 is operating as it always has—a community center and prayer space," said Hank Sheinkopf, a spokesman for Park51. "We are looking for temporary space in case we have to relocate during some planned maintenance."
Park51 officially opened its doors as a cultural and community center at 45-51 Park Place in September 2011, a year after controversy ensued following announcement of plans for a 15-story Muslim institution two blocks from the World Trade Center, which Islamic radicals attacked on September 11, 2001.
Mr. Gamal has a project further uptown. Soho Properties and Murray Hill Properties are tearing down a three-story building at 205 West 40th Street that is home to Garment Center Synagogue, and developing at the site a 23-story retail center and hotel, the New York Times reported last month. The synagogue will move out temporarily.
205 West 40th Street
,
44 Trinity Place
,
45-51 Park Place
,
Eastern Consolidated
,
Garment Center Synagogue
,
Hank Sheinkopf
,
James Famularo
,
murray hill properties
,
Park51
,
Ravi Idnani
,
Sharif El-Gamal
,
SoHo Properties
,
Wogies Bar & Grill
,
World Trade Center