Revenue Watch Institute Signs Lease at 80 Broad Street
---
---
Revenue Watch Institute, a non-profit policy and grantmaking organization, has signed a seven-year lease for a 7,255-square-foot portion of the 18th floor at Savanna's 80 Broad Street, Commercial Observer has learned. Asking rent for the space was in the high-$30s per square foot.
The nonprofit, which was represented in the transaction by Andrew Stein of Vicus Partners, will relocate its New York headquarters from the seventh floor of 1700 Broadway in approximately three months.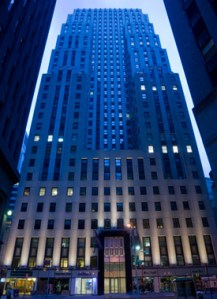 Founded in 2002, RWI promotes the effective, transparent and accountable management of oil, gas and mineral resources for the public good, according to the organization's website. Originally a program of the Open Society Institute, the organization became independent in 2006. Based in New York, the tenant also has offices in the U.K., Ghana and Peru, and operations in Azerbaijan, Indonesia, Lebanon, Nigeria and Tanzania.
Real estate private equity firm Savanna acquired 80 Broad Street from Swig Equities in 2011 after taking control of the property's senior mortgage. Swig Equities had acquired the 410,000-square-foot building for $70 million in 2004.
As reported by Commercial Observer, Indus Architect signed a seven-year, 2,240-square-foot lease at the Financial District property earlier this month. Following the RWI lease, the building is 85 percent occupied.
Hal Stein, Todd Stracci, and Adam Leshowitz of Newmark Grubb Knight Frank represent Savanna at 80 Broad Street.
1700 Broadway
,
80 Broad Street
,
Adam Leshowitz
,
Andrew Stein
,
Hal Stein
,
Indus Architect
,
Newmark Knight Frank
,
Open Society Institute
,
Revenue Watch Institute
,
Savanna
,
Swig Equities
,
Todd Stracci
,
Vicus Partners