NYC Launches Fundraising Drive for East Harlem Explosion Victims [Updated]
---
---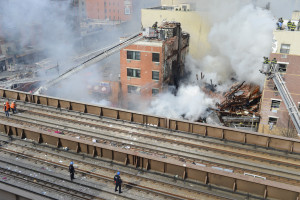 The Mayor's Fund to Advance New York City is raising money for people who were adversely impacted by last week's East Harlem gas explosion, as part of a strategic relief plan. It has already received $250,000 in pledges, First Lady Chirlane McCray, chair of the Mayor's Fund to Advance New York City, announced yesterday at Bethel Gospel Assembly.
The financial aid will help victims cover their rent, funeral arrangements, household expenses, counseling services as well as community-based outreach focused on immigrant communities.
As Commercial Observer previously reported, an explosion on Park Avenue and 116th Street left eight dead and more than 50 injured. 
"If there's one thing New Yorkers can count on, it's other New Yorkers," Ms. McCray said. "While the primary objective of the mayor's fund is to support large-scale projects that address persistent problems, when disaster strikes, we will never hesitate to use the flexibility of the Fund to provide our neighbors with crucial assistance."
The $250,000 in pledges come from the Real Estate Board of New York, Consolidated Edison, the Association for a Better New York, and the Rudin family and the families and board members of East Harlem Tutorial Program.
The services will be made available as the initial response efforts led by the American Red Cross of Greater New York and Salvation Army phase out.
Safe Horizon will administer the victims' assistance and case management. Union Settlement and LSA Family Health Service, which are based in East Harlem, will lead the community outreach effort. The Red Cross will continue to provide disaster mental health support to survivors, as well as help to transition disaster survivors from immediate needs to ongoing recovery.
Martin Newman, a real estate investment adviser and consultant who is on Safe Horizon's board of directors said: "I've served on the Safe Horizon board for 20 years and saw how our agency was there for New Yorkers after Sept. 11, and am so proud that we are there for people now affected by this tragedy. The ability of the Mayor's Fund to Advance New York City to rally agencies with experience such as Safe Horizon, along with government leaders and those with financial resources like the real estate community, is remarkable. It is a very efficient way to bring New Yorkers together to help those who have suffered trauma or loss."
Update: This story has been edited to include a comment from a member of the board of directors for Safe Horizon.
American Red Cross of Greater New York
,
Association for a Better New York
,
Chirlane McCrayBethel Gospel Assembly
,
Consolidated Edison
,
East Harlem Tutorial Program
,
LSA Family Health Service
,
Martin Newman
,
Real Estate Board of New York
,
Safe Horizon
,
Salvation Army
,
Union Settlement