Muss Development Buys Retail Condo, Simultaneously Lands Le Pain Quotidien
---
---
Muss Development has purchased a retail condominium at the base of Toll Brothers' Touraine luxury residential building on the Upper East Side for $12 million, and construction is already underway to outfit the space for a new Le Pain Quotidien.
The build out of the 5,000-square-foot retail condominium at 865 Lexington Avenue (aka 132 East 65th Street) will take approximately three months to complete, at which point the European cafe chain will move into its 31st Manhattan location, Jason Muss of Muss Development told Commercial Observer.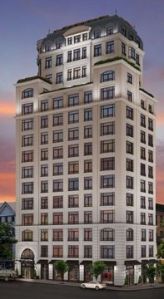 "They are already in the neighborhood and are a proven operator there, and they clearly know their customers, so it seemed like the perfect fit," he said.
The negotiations with Brussels-based cafe, known for its organic bread and cakes, played out while Muss Development negotiated the contract for the condo, and the deals closed simultaneously, Mr. Muss said, though he declined to specify how much Le Pain Quotidien would pay to lease the space.
Muss Development's other retail projects include a retail strip at the city-owned 345 Adams Street in Downtown Brooklyn, the Jackson Heights Shopping Center in Jackson Heights, Queens, 1556 Third Avenue on the Upper East Side and the Manor Road Shopping Center in Staten Island.
"Acquiring this premier piece of real estate at a prime location further demonstrates our commitment to securing high-end, corner retail locations in New York City," Mr. Muss said in an earlier statement announcing the purchase of the 865 Lexington Avenue space. "[It] builds on our solid presence in the retail market and complements our existing portfolio."
Glenn Tolchin and Yoav Oelsner of Jones Lang LaSalle represented both the buyer and the seller, disclosed as "Lex 65," of the condo, while Amira Yunis of CBRE represented Le Pain Quotidien and Gregory Tannor of Cushman & Wakefield represented the landlord in the lease.