Lee Lorch, Leader of Stuyvesant Town's Desegregation, Dead at 98
---
---
Mathematician Lee Lorch, whose leadership in the campaign to desegregate Stuyvesant Town helped make housing discrimination illegal nationwide, has died. He was 98.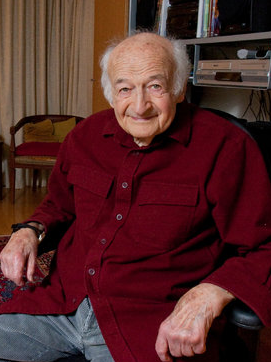 Beginning in the late 1940's, Mr. Lorch's efforts to end Stuyvesant Town's whites-only admissions policy – and his refusal to back down – led to a reputation as a "trouble maker" that seeped into his professional life, as the universities he worked for one-by-one refused to extend his tenure.
"Because he believed in the principles of decency and justice, and the equality of men under God, Lee Lorch and his family have been hounded through four states from the North to the South like refugees in displaced camps," Ethel Payne, a black journalist with The Chicago Defender, wrote in May 1956, according to a New York Times obituary chronicling Mr. Torch's quest for equality.
Mr. Lorch moved into Stuyvesant Town in the spring of 1946 after his return from service in the Pacific with the Army Air Corps. By 1947 he had become vice chairman of a group of 12 tenants calling themselves the Town and Village Tenants Committee to End Discrimination in Stuyvesant Town after a lawsuit against Metropolitan Life Insurance Company, then owner of the complex, failed in state courts. The group ultimately grew to 1,800 tenants.
"When you got into Stuyvesant Town, there was a serious moral dilemma," he said in a 2010 interview with William Kelly of the Stuyvesant Town-Peter Cooper Village Video Project. "In the concentration camps of Nazi Germany, people had seen the end results of racism."
Mr. Lorch had earned a doctorate in mathematics and taught at City College upon his return from war, but by 1949 the appointments committee at the school had blocked his promotion, forcing him to leave. Pennsylvania State University and all-black colleges Fisk College and Philander Smith College would also let him go in the face of controversy.
In January 1952, as tenants at Stuyvesant Town, according to the Times, barricaded themselves in their apartments and picketed outside City Hall and Metropolitan Life's headquarters, Mr. Lorch was evicted, but a black family he had housed was allowed to stay. Seven years later, only 47 blacks lived in Stuyvesant Town. But Mr. Lorch's sit-ins, protests and petitions helped spark the change that would lead to the Fair Housing Act of 1968, making the discrimination in the sale, rental, or financing of housing illegal. 
By 1959 Mr. Lorch, after many years of professional turmoil, had move his family to Canada, teaching first at University of Alberta and later at York University, until he retired in 1985.  
During his interview with Mr. Kelly, Mr. Lorch was asked if he would have done anything differently.
"More and better of the same," he said.
Ethel Payne
,
Fair Housing Act of 1968
,
Fisk College
,
Lee Lorch
,
Metropolitan Life Insurance Company
,
Pennsylvania State University
,
Philander Smith College
,
Stuyvesant Town-Peter Cooper Village Video Project
,
The Chicago Defender
,
Town and Village Tenants Committee to End Discrimination in Stuyvesant Town
,
University of Alberta
,
York University