Impaired Performing, Nonperforming and CMBS Loan Prices Up: DebtX
---
---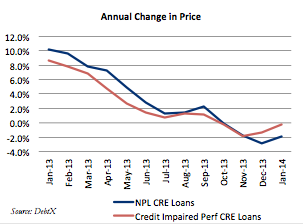 While the volume of commercial real estate loans declined in New York City in January, their pricing increased across the nation, according to a report from DebtX, a leading mortgage adviser, released in early March.
"Commercial real estate loan prices got off to a good start in 2014," DebtX Managing Director Will Mercer said in a press release. "We saw increases in both impaired performing and nonperforming secondary-market trades. CMBS loans saw a nice increase as well."
Impaired performing loans traded through DebtX had a weighted average monthly price of 79.8 percent in January, up from 79.2 percent month over month. That was nearly on par with the figure one year ago, which was 80 percent, the data show.
Nonperforming loans, meanwhile, were trading at a weighted average monthly price of 50.5 percent in January, up from 48.4 percent in December and down from 52.3 percent year over year.
DebtX said that prices for U.S. CMBS loans increased to an estimated 94.1 percent as of Jan. 31, according to the report. That figure was a moderate jump from December's figure of 92.6 percent and also up from the December 2013 number, which was 89.2 percent.
DebtX's monthly Loan Liquidity Index, which looks at pools of loans sold through DebtX, was 109.8, down from 110.2 in December and up from 107.1 in January 2013.