Honest Buildings Launches iPad App
---
---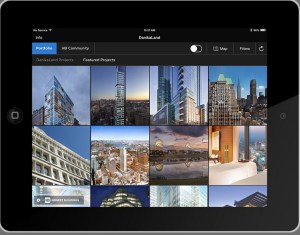 Connection engine Honest Buildings has launched a free iPad app for real estate service pros who have submitted projects on the website so they can share their work in real-time on-the-go to prospective clients, Commercial Observer has learned.
"We kept getting examples of people's work in the PDF two-page document that every vendor in the real estate industry has to showcase what they have," said Riggs Kubiak, the company's CEO. "We thought we could drastically improve that experience."
Similar to LinkedIn, HB Network's is a Web-based platform that offers a streamlined process for building owners to compare, vet and select the most relevant building experts for the specific requirements of their projects in one place. The platform hosts the portfolios of more than 7,000 building experts, including architects, engineers, contractors and technology experts primarily in New York City. Prominent real estate companies using HB Network include Time Equities, Cushman & Wakefield, Vornado Realty Trust and Sitt Asset Management.
The app is free to use for companies that upload more than 10 projects.
"Gone are the days of two-page glossy brochures (which cost thousands of dollars and are usually outdated shortly after they've gone to print) to show your work," Mr. Kubiak wrote in a piece for Commercial Observer this week. "In our mobile world, you just have to swipe left to show the world what you're made of."
Honest Buildings says it has originated more than $150 million in deals since its inception in January 2013, $100 million in the last three months alone. The company gets paid a percentage of each transaction upon contract signing.