Flushing Commons Developers to Close $300M Financing Brokered by HFF
---
---
The developers behind the long-stalled Flushing Commons project are about to sign off on about $300 million in debt and equity financing for phase one of the massive mixed-use Queens complex.
The partnership between Flushing-based TDC Development and Construction Corporation, AECOM Capital, the Rockefeller Group and Mount Kellett Capital Management is getting ready to close a roughly $225 million loan from Starwood Property Trust and a $75 million equity investment from the developers, a person familiar with the negotiations told Mortgage Observer on background. Both deals are expected to close at the end of the month, that person said.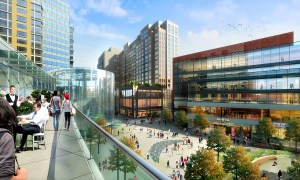 The debt and equity portions will be used to refinance a bridge loan from Starwood Property Trust for the $20 million acquisition of the development site, which closed on Dec. 30 2013, and fund the first phase of construction. A team from HFF's New York office led by Office Co-Head and Senior Managing Director Andrew Scandalios brokered the financing. HFF and Starwood declined to comment.
Construction on the $850 million complex to be built over a 5.5-acre municipal parking lot in downtown Flushing is set to begin in April after the debt and equity arrangement is finalized and demolition ends. Groundbreaking on the project had been scheduled to start in fall 2013 and was then pushed back to January 2014, due to the complexity of the financing.
Phase one of the development includes 150,000 square feet of office condos, 56,000 square feet of retail rental space, 150,000 square feet of residential condos and a 982 space parking garage. Phase one construction must be completed by April 2017, according to the New York City Economic Development Corporation, which sold the land to the developers.
Phase two of the project, scheduled to begin in 2018, will include another 270,000 square feet of mixed-use space, a 62,000-square-foot YMCA, a 1.5-acre outdoor public plaza, 450 housing units and 618 parking spaces. If the developers fail to begin phase two in time, the partnership could face millions of dollars in penalties, a spokesperson for the EDC said.
The planned urban complex is the final major construction project to commence under the Bloomberg administration. The developer partnership was first selected in 2005 and the project later received city approval in August 2010. Former Mayor Michael Bloomberg and the EDC then announced in March 2013 that Flushing Commons would be divided into two phases.
The full development is expected to create more than 2,600 construction jobs and 1,900 permanent jobs, "utilizing low impact development techniques and green building technologies," according to an EDC press release from Jan. 28.
An AECOM spokesperson confirmed the closing of phase one construction financing by the end of March, but declined comment further on the debt and equity.