Family Matters: Tara Stacom on 1 World Trade Center
---
---
The Stacom name has become almost synonymous with the country's biggest real estate projects and deals. The foundations of that reputation were laid back in 1962 when the late Matthew Stacom brokered the sale of the development site that would become the Sears Tower, the Chicago office property that would later be declared North America's tallest building.
Mr. Stacom's daughters, Tara and Darcy, grew up with a constant reminder of their father's landmark transaction: a photo of the Sears Tower on the wall of the family's home.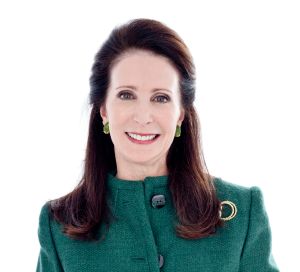 Half a century after her father's defining deal, Tara Stacom brokered the anchor lease with Condé Nast at 1 World Trade Center, the building that late last year took the title of the continent's tallest building from the Chicago tower. Prior to Mr. Stacom's death in January at age 95, the debate over the distinction was a source of humor for father and daughter.
"My father and I joked about whether 1 World Trade Center would get the title of tallest building," Ms. Stacom, an executive vice chairman at Cushman & Wakefield, told Commercial Observer last week. 
Friendly family competition aside, Ms. Stacom's leasing assignment at the Durst Organization building is serious business. Securing Condé Nast to a 25-year, 1-million-square-foot anchor tenant lease at 1 World Trade Center was a weight off the collective shoulders of Durst, the Port Authority, Cushman & Wakefield and, more broadly, the city. But that was three years ago.
Ms. Stacom's work at 1 World Trade Center is hardly complete. Despite Condé Nast's landmark lease, which Ms. Stacom described as unlike any other deal in her 30-year career, 1 World Trade Center sits 45 percent vacant less than nine months from its scheduled debut, with nearly 1.5 million square feet of space still available.
Like her Durst Organization counterpart, Eric Engelhardt, Ms. Stacom, 55, resists any hint of pessimism about the current state of leasing at 1 World Trade Center. 
"We're very pleased right now with the leasing momentum," she said. "I was just down there with two tenants we've been trading paper with."
Challenges aside, the assignment is without question a landmark in Ms. Stacom's storied real estate career. Like her father's association with the Sears Tower (now Willis Tower), it is one that will, by Ms. Stacom's own admission, define her legacy in the industry.
Even with the growing competitive landscape in the neighborhood, Ms. Stacom isn't daunted. With the opening of Silverstein Properties' 4 World Trade Center and the future of the same developer's 3 World Trade Center construction secure, tenants have no shortage of options. But there's nothing quite like 1 World Trade Center. 
"1 World Trade Center is unique," Ms. Stacom said. "It stands on the global stage, giving global visibility to the tenant. Whether you're in Germany, Singapore or Moscow, everyone knows where you're talking about."
Interest in the building has largely been driven by tech and media tenants, a far cry from the financial institutions that formerly dominated the World Trade Center site. Companies that just last year were clamoring for space in Midtown South are now looking to lower Manhattan as a viable, even preferred, alternative. 
"We are sensing a new dynamic in the marketplace," Ms. Stacom said. "Rather than being seen as a pricing alternative, tenants are realizing that Downtown is where they want to be." 
The market has been encouraged by Condé Nast's commitment to the site, with many tenants feeling that lower Manhattan has been validated as a viable location by the media giant's deal there.
"There is no question that Condé Nast was the initial driver in getting creative media companies to Downtown Manhattan. They were way ahead of the curve," Ms. Stacom said. 
The Condé Nast deal was a unique one by Ms. Stacom's estimation, because for the first time in her 30-year real estate career, leasing teams weren't competing with another marquee asset. Rather, negotiations centered on logistics: When would construction be complete, and would the landlord need to install a temporary loading dock?
"Condé decided they wanted 1 World Trade Center, and the negotiations took a very short period of time," she recalled. "Negotiations lasted weeks rather than months. It was quite different."
The World Trade Center isn't the only site downtown where Ms. Stacom is hoping to attract the creative class. At AIG's former headquarters at 180 Maiden Lane, Cushman & Wakefield is marketing a new style of building. The ground floor of the SL Green-owned property is being redeveloped in the image of some West Coast tech hubs. Out is the doorman-attended lobby, and in are large community spaces, putting greens and even a badminton court. 
"We're making it a very stimulating environment to pass through, and we've gotten a lot of traction with the media and tech tenants we are negotiating with," Ms. Stacom said. 
Ms. Stacom's optimism for lower Manhattan is unbridled. Though she admits the submarket has already experienced a significant transformation, there is still more change on the horizon, namely when the balance of the World Trade Center site opens to the public. Once thousands of office workers begin to move seamlessly from the site's buildings to the area's new retail centers and restaurants, the transformation will be complete. 
"In the next 24 months, when all of that opens up, Downtown will be firmly on the map as the demographic hub of where tenants want to be," she said. 
Though lower Manhattan's leasing velocity trails Midtown and Midtown South's so far this year, C&W executives expect that to change in short order. 
"We think this year will be a record year for Downtown Manhattan," Ms. Stacom said. "There are going to be some significant announcements made in the next quarter to put Downtown's velocity far ahead of Midtown."
Ms. Stacom's immediate concerns do not overshadow the dynamic broker's commitment to the future of the real estate industry. A trustee of her and her father's alma mater, Lehigh University, for over a decade, Ms. Stacom, along with fellow alumnus Marc Holliday of SL Green, has played an integral role in the Integrated Real Estate at Lehigh program. She also established the program's Stacom Family Speaker series. 
The program, stylized ire@l, allows Lehigh undergraduates to minor in real estate regardless of major and has been well received by the real estate industry. Ms Stacom is cognizant of her good fortune as the daughter of an industry veteran and acknowledges it can be harder for outsiders to crack the real estate code. 
"The program is giving the industry a talented labor pool with a depth of experience in real estate," Ms. Stacom said. "It is my way of leaving a mark on Lehigh."