EVO's Ira Fishman Talks About Acquiring Winoker and Growing the Family Business
---
---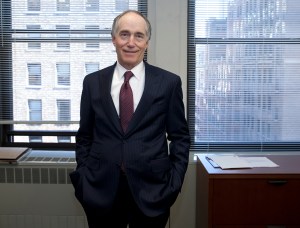 Ira Fishman is walking around his office with carpet and base molding samples in his hand. EVO Real Estate Group President Dana Moskowitz wants his input on the color scheme for the company's new offices. He says Ms. Moskowitz has better taste than him, but she wants him to weigh in on the color scheme anyway. He is her father after all.
In the end, he agrees with Ms. Moskowitz: White walls and light gray tones (including gray base) with blue accents are the way to go.
The color selections are for the company's relocation at the end of April to the 20th floor at 1430 Broadway at 40th Street, as Commercial Observer reported last week. The move will increase the firm's space to 13,350 square feet from 9,000 and allow for managers, brokers and the accounting department to be seated in distinct areas, rather than on top of each other, as they are now.
Mr. Fishman, the company's chief executive officer, had told Commercial Observer last June that the firm was seeking to relocate to Midtown South, so why is the Midtown South-focused commercial real estate firm moving north of its current digs at 462 Seventh Avenue between 35th and 36th Streets?
Mr. Fishman said the new office falls within the boundaries he uses for Midtown South: south of 40th Street to Canal Street, river to river. That contrasts with how many real estate firms define it, as south of 31st Street.
He has his rationale.
"I see it as the old stock of manufacturing buildings that were built for manufacturing, obviously, and then converted to office," he said. And there are a lot of those buildings south of 40th Street.
The tenants are mostly privately held companies in industries including service, publishing, architecture, media, technology and "whatever is left of the Garment District." And what's left of the Garment District is showrooms and sample rooms.
"The Garment District is the Garment District in name only," Mr. Fishman said.
Mr. Fishman is on the board of directors at the Garment District Alliance, which was the Fashion Center BID until last year. He has been part of the alliance since its inception in 1993, because "90 percent of my business was in the Garment District." Today, he has an ownership interest in four buildings in the area and a management interest in 10 to 12 others.
Mr. Fishman and Ms. Moskowitz head up EVO along with father-son principals Nathan and Joshua Halegua. The company does third-party property management, commercial leasing, brokerage and advisory.
The foursome acquired Winoker Realty in February 2013, less than a year after the death of the firm's president, David Winoker, in a skydiving accident. They rebranded the company as EVO Real Estate Group and took over Winoker's offices at 462 Seventh Avenue.
In its latest development, EVO, which sounds like TiVo and stems from the word "evolution," launched a responsive website last month after eight to nine months of development. "It adapts itself to any device," Mr. Fishman, 63, said. The firm is also converting its billing system to a paperless system.
Messrs. Fishman and Halegua (the elder) have an interest in 50 buildings, of which the former owns an interest in more than 20. The vast majority of the buildings, which span a variety of types, are in Manhattan.
EVO is staying true to Winoker's roots in Midtown South, tapping into the submarket's popularity with the technology and creative industries. Winoker was most conspicuously present in the Garment District with tenant rep, management and ownership.
"While we continue to provide services to the firm's existing clients, we are also focused on expanding the client base and providing a full-service experience," Mr. Fishman said.
Midtown South is a sweet spot, because the supply is shrinking while the demand is stable. Manufacturing buildings aren't being built anymore, and the ones that do exist are often being converted to residential lofts.
"Midtown South has been the core of our company's agency portfolio for a long time," Ms. Moskowitz said. "I believe that we have a solid reputation as a management and leasing firm in this area and are very active in there. The multigenerational, New York real estate family foundation of EVO fits in really well with the profile of many of the owners in the Midtown South submarket."
The area's manufacturing buildings are appealing to tenants with their high ceiling heights of at least 11.5 feet, architectural detail, wood floors and large windows that can open.
When Messrs. Fisher and Halegua buy properties, they seek limited partnerships with friends and family. Investors can contribute as little as $25,000. And Midtown South is a great neighborhood in which the nonprofessional real estate investor can gain entry to the market, Mr. Fishman said.
It's easy enough for an individual to get conventional debt and own a building in the area, he added.
The firm's target client is someone with money who wants to get into real estate investing but wants EVO to manage the asset. Mr. Fishman's job is in large part to find those investors, keep existing ones and identify key buildings to buy.
"I find that so many of our clients want to bounce ideas off him about their properties or new deals they are looking to buy," Ms. Moskowitz said. "And when he is looking at a deal to purchase, many of the investors go into the deal solely because Ira is involved and they know his track record."
The firm's closest competitor is ABS Partners Real Estate.
Gregg Schenker, a co-managing partner and president of ABS, said the two firms have a nice relationship.
In fact, the two companies were in talks to collaborate on the purchase of two buildings. While that deal didn't materialize, Mr. Schenker said he hopes they can partner on a deal in the near future.
Thanks to his uncle, the late Aaron Gural, Mr. Fishman started in real estate with an internship at Mr. Gural's Newmark & Co. Real Estate (which in 2012 became Newmark Grubb Knight Frank) while in college in 1971. The following year, he graduated from college on a Thursday and four days later started working full time for the firm. He was a rent collector and a leasing broker. He recalls collecting $70,000 in cash from a retailer for its first month's rent and security. The tenant brought the dough in a briefcase, and Mr. Fishman stuffed it in a brown paper bag to transport it.
Funny enough, Mr. Fishman's second cousin, Brian Steinwurtzel, a managing director at Newmark, learned the business 20 years ago as a 16-year-old rent collector for Mr. Fishman at Newmark.
"He was a great mentor," Mr. Steinwurtzel said. "He would make time to talk to me and put very complicated deals into a perspective that a 16-year-old could understand." And he let Mr. Steinwurtzel attend meetings with him.
Today, the cousins are working together as co-owners of 45 West 34th Street, with EVO leasing the building and Newmark managing it.
Mr. Fishman was trained by Mr. Gural, and Mr. Steinwurtzel was trained by Mr. Fishman, so they have a similar perspective on how to care for a building, Mr. Steinwurtzel said.
"Ira understands investing in buildings and spending the money and that drives rents higher," he said.
Mr. Fishman joined Winoker Realty in 1998, nearly 30 years after that firm was started by Mr. Winoker's father. Mr. Fishman had been unhappy working at Newmark and made the move to Winoker as a partner.
Mr. Fishman's cousin, Jeffrey Gural, the chairman of NGKF, said that Mr. Fishman made the right call in leaving that company.
"I think he wanted to grow and my father didn't want to," Mr. Gural said. "It was a generational thing. My father just wanted Ira to run the buildings in my dad's portfolio. Ira wanted to expand and buy buildings. I think Ira made a good move in leaving, because it gave him an opportunity to grow."
When Ms. Moskowitz, who had previously worked at Winoker, returned from a stint in Chicago and didn't want to go back to Winoker, the father-daughter team started ID Real Estate Partners. The firm was around for five years until the purchase of Winoker.
When the partnership acquired Winoker for an undisclosed sum, it was a smooth transition since Mr. Fishman knew most of the brokers that worked at Winoker and "kept the company intact."
One change the new owners made was adding seven or eight brokers, bringing the tally to 21. Also, as of last November, JDF Realty founder Robert Frischman was brought on board to head up a new retail leasing division.
In addition to his daughter, Mr. Fishman has a 26-year-old son, Michael, who recently got involved in interior construction.
As for working with his daughter, who is 33, Mr. Fishman joked: "It's like having two wives."
No, really, he said, it's great.
Ms. Moskowitz said working with her father has been rewarding.
"There can be times when it is frustrating and the father/daughter relationship starts to come into play," she said. "But he and I have been working together as equals for over six years, and we have definitely defined our roles working together so that we get the most out of our partnership. He was, is and will always be my mentor, and there is always so much I can learn from him, but I know there are times when he can learn something from my point of view as well."
1430 Broadway
,
45 West 34th Street
,
462 Seventh Avenue
,
Aaron Gural
,
ABS Partners Real Estate
,
Brian Steinwurtzel
,
Dana Moskowitz
,
david winoker
,
EVO Real Estate Group
,
Garment District Alliance
,
Gregg Schenker
,
ID Real Estate Partners
,
Ira Fishman
,
JDF Realty
,
Jeffrey Gural
,
Joshua Halegua
,
Nathan Halegua
,
Newmark Knight Frank
,
Robert Frischman
,
Winoker Realty