140 Franklin Crunch Lease Dispute Heads to Court
---
---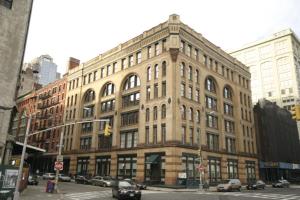 Next week, the case against a real estate company which is in negotiations to bring a Crunch Gym to a Tribeca residential condominium heads to court, and the decision could make or break a gym lease at 140 Franklin Street.
On Wednesday, March 12, the court will conduct a hearing to determine whether to grant the 140 Franklin Street condominium board's application to prevent Lily Realty from signing a lease with Crunch, pending the trial. There is currently a temporary restraining order in place prohibiting Lily Realty from executing any lease with Crunch. That order expires upon the court's decision, which will be issued following next Wednesday's hearing.
"If the board wins the injunction, then Lily Realty would be unable to execute a lease with Crunch and the board would consider that a victory," said Tarter Krinsky & Drogin attorney David Pfeffer, who along with Eric Zipkowitz is representing the condo board.
In a $5 million January 9 lawsuit against John Calicchio's Lily Realty and Crunch, the board, representing the landmarked Tribeca condo near Varick Street, states that Crunch's potential 19,000-square-foot lease of the ground- and lower-levels in the building would be in violation of the building's condo declaration (which doesn't allow any type of health club, gym, spa, weight training facility, physical therapy center or any other fitness-related use) and bylaws (dictating no tenants which are a source of "annoyance" to residents) as well as city zoning laws (which preclude a "physical culture or health establishment" in the space).
Lily Realty countered in opposition papers filed on Friday that the condo "fails to identify a prohibition" to having a gym in the space and that Crunch would "not create any harm for the residents." The firm also says in the documents that the condo declaration and bylaws do not prohibit a fitness center.
The company says that if the injunction is permitted by the judge, it would lose around $387,500 in rent for the first year and $775,000 annually in the second and third years while having to continue to pay condo association fees.
The retail space, which served as an office for Mr. Calicchio's Argo International electrical supply company, hit the market in August 2012, The Real Deal previously reported. But it was actually two years ago that Lily decided it wanted a tenant, according to Lily's court documents. And it took two years for the firm to find Crunch.
Residents of the 13 units include J. Crew Chief Executive Mickey Drexler, who bought a 6,226-square-foot fifth-floor unit for $14.3 million in 2012.
Fulbright & Jaworski partner Mark Robertson, who represents Lily Realty, said he couldn't talk without the permission of his client and then never followed up. Wilk Auslander's William Scherer, who represents Crunch, didn't respond to a request for comment.
140 Franklin Street
,
Argo International
,
Crunch
,
David Pfeffer
,
Eric Zipkowitz
,
Fulbright & Jaworski
,
J.Crew
,
John Calicchio
,
Lily Realty
,
Mark Robertson
,
Mickey Drexler
,
Tarter Krinsky & Drogin