Coney's Thunderbolt Roller Coaster Breaks Ground
---
---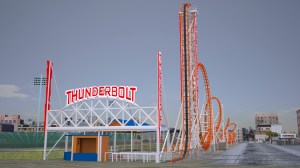 Move over Brooklyn Cyclone, Coney Island's newest roller coaster, the Thunderbolt, has broken ground today.
The Thunderbolt, to be built on city-owned property adjacent to the boardwalk in Luna Park, will be the first new custom roller coaster since 1927, when the Cyclone was built, and the first in the area since 1910 to send riders upside-down in a vertical loop.
"The Thunderbolt roller coaster represents another exciting step forward in the continued revitalization of Coney Island," said New York City Economic Development Corporation President Kyle Kimball in a statement about the ground-breaking.
In a span of two minutes, the Thunderbolt will travel 55 miles per hour and reach more than 100 feet in the air. It can handle 27 riders at a time.

Built by Italian amusement park operator and ride provider Zamperla S.p.A., the Thunderbolt will be operated by Central Amusement International, operator of Luna Park. It will be steel incarnation of the original wooden Thunderbolt which operated at the site from the 1920s through the 1980s.
The roller coaster, which will reportedly open on Memorial Day weekend, is a step toward the revitalization of Coney Island.
As Commercial Observer reported early last year, efforts to revive the faded Coney Island accelerated a decade or so ago and culminated in April 2010, when the city chose Central Amusement International, of which Alberto Zamperla, president and chief executive of Zamperla SPA, is the majority shareholder, to operate Luna Park, the 6.2 acres of land it owned between Surf Avenue and the Atlantic Ocean.