Clean Tech Incubator Opens in Downtown Brooklyn
---
---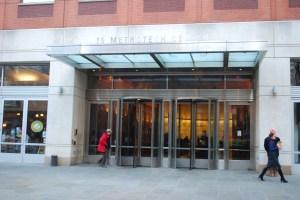 A clean technology incubator, supporting startups and hosting educational programming, has opened in Downtown Brooklyn, New York City Economic Development Corporation and the New York University Polytechnic School of Engineering announced.
Urban Future Lab, a 10,000-square-foot business incubator, has opened at NYU School of Engineering's Downtown Brooklyn campus, on the 19th floor of Forest City Ratner's 15 MetroTech. Designed to support the clean technology sector, Urban Future Lab combines a business incubation program with a product demonstration and exhibition space. It also offers educational programming and job training workshops.
"The Urban Future Lab will provide much-needed affordable space, training, and resources for talented entrepreneurs and schoolchildren alike to design solutions to global urban problem," said EDC President Kyle Kimball in a prepared statement.
The proposal was selected following a request for proposals issued in January by the EDC, which will provide up to $750,000 in seed funding over two years, as Commercial Observer previously reported.
When operating at full capacity, the incubator will be home to about 20 companies, and will have the potential to educate 50 public school teachers, host hundreds of public school students and train dozens of young adults annually.
"The Urban Future Lab encourages economic growth, job creation and innovation while connecting New Yorkers to the flourishing clean technology sector," said Deputy Mayor for Housing and Economic Development Alicia Glen.