Chef Prodigy, Food Market Chain Owner Hook Up for Hudson Food Hall [Updated]
---
---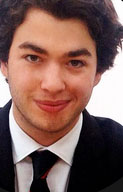 Teen chef Greg Grossman is teaming up with the founder of the eatery chain Bread & Butter to create Hudson Food Hall, Commercial Observer has learned.
"I wanted to do a different concept taking some of the Bread & Butter infrastructure, wearing different colors and schemes and create a true New York food experience," said Terence Park, the founder, president and owner of Bread & Butter.
Mr. Park said he has brokers negotiating two 10,000-square-foot spaces for him for the market. One location will be on Hudson Street in Tribeca. Cosmo Montemurro of Murro Realty is representing Mr. Park in the deal. The other market location will be on Park Avenue South in the 20s, said Eastern Consolidated's Alexander Hill, who has put out offers on behalf of Mr. Park. [Update: This story was edited to reflect that CBRE's Cassie Durand is not involved in the Hudson Street deal as a reporter had been informed, but Cosmo Montemurro of Murro Realty is.]
"Park Avenue South is a proven area for restaurants and restaurateurs are doing well there," Mr. Hill said. Bread & Butter has a location at 419 Park Avenue South at the corner of 29th Street.
Mr. Grossman, the founder of restaurant consultancy Culinaria Group, is involved in the culinary operations. Mr. Park said Mr. Grossman would be involved in menu development and would be cooking on a part-time basis. Mr. Grossman deferred requests for comment to Mr. Park.
The Hudson Food Hall, whose name hails from the Hudson River, will be "more culinary driven" and have "more character" than the five food court-style Bread & Butter deli locations, the first of which opened five years ago. Bread & Butter serves American, Italian, Mexican, Japanese and Korean cuisine at different stations.
Regarding the new concept, Mr. Park said: "I always wanted to create a brand that could really represent New York like Shake Shack. It's more of building a brand rather than just opening a market or a food hall."
Mr. Park said he has been in talks with Roman and Williams Buildings and Interiors, designer of the Ace Hotel and the the Meatpacking District's Standard Hotel, among other designers about the look and feel of Hudson Food Hall.
Mr. Park said his food market will be similar to Gotham West Market, which opened in November on 44th Street and 11th Avenue, but not as hip and trendy.
419 Park Avenue South
,
ACE HOTEL
,
Alexander Hill
,
Bread & Butter
,
Cassie Durand
,
CBRE
,
Cosmo Montemurro
,
Eastern Consolidated
,
Gotham West Market
,
Greg Grossman
,
Hudson Food Hall
,
Murro Realty
,
Roman and Williams Buildings and Interiors
,
Shake Shack
,
Standard Hotel