Brokers' 'Sexual Escapades' Set to Air On 'Inside Edition'
---
---
Have you ever thought about making love in a space you were supposed to lease out or sell? Have you ever done it? 
We didn't think so. But two New Jersey residential brokers allegedly did just that and are paying the price, as TV news mag "Inside Edition" preps to broadcast video of their sexual exploits.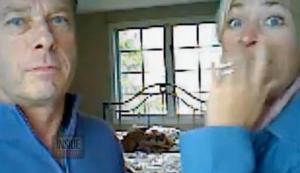 New surveillance video released by homeowners – you can't make this stuff up – Richard and Sandra Weiner shows New Jersey real estate agents Robert Lindsay and Jeannemarie Phelan making out, putting on their clothes after (use your imagination) in the bedroom and even staring into the camera when they realize they've been caught.
Mr. Lindsay's face appears rather blank on an image that appeared in the New York Daily News of the duo caught in the act. But while audio was unavailable, Ms. Phelan appears wide-eyed, with hand over mouth, potentially gasping or thinking something like, "Oh Sh*t!"  
"Lindsay and Phelan entered the master bedroom, undressed and proceeded to have sex on the Weiners' bed," a lawsuit filed in December stated, according to the New York Post. "A while later, the security cameras show Lindsay and Phelan getting dressed."
The Weiners sued the real estate agents and their firm, Coldwell Banker, in December, alleging that the agents deliberately overpriced the home by as much as $650,000 to keep buyers away. Both agents were fired from their jobs at Coldwell Banker.
The home was allegedly used during 11 or more "sexual escapades," according to the lawsuit, and when the homeowners called the cops as their final rendezvous unfolded, in January 2012, they reportedly arrived to find Mr. Lindsay pulling up his pants.
Mr. and Mrs. Weiner are seeking damages for invasion of privacy, emotional distress, breach of contract and trespass in Passaic County court. Mr. Lindsay has countersued, accusing the Weiners of extortion.
The footage is set to air Tuesday on "Inside Edition."