Big Apple Hostel Sells for $12M
---
---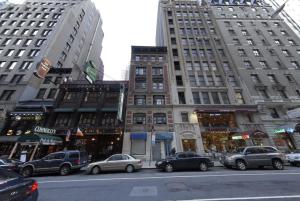 Big Apple Hostel, at 119 West 45th Street, has sold for $12 million and is slated to become a tavern and hotel or hostel, according to city records and the buyers' attorney.
The buyers also own the adjacent Perfect Pint, at 123 West 45th Street, and Connolly's Pub & Restaurant, at 121 West 45th Street.
While they plan to have a tavern on the ground floor and a hotel or hostel on the upper floors, "we haven't decided on the mechanics. I don't know if it's going to be joined with the other two," their attorney, David Korngut, said.
Heinz Broennimann's Manhattan Hostel sold the six-story 1920 Big Apple Hostel on March 14 to what is listed in city records as 119 West 45th Management LLC and it was recorded with the city today. The hostel closed on March 12, according to its website.
A call to the Perfect Pint wasn't immediately returned.