American Bible Society Puts Headquarters on the Market
---
---
American Bible Society has hired Cushman & Wakefield to market for sale its 12-story headquarters building at 1865 Broadway.
The site is being marketed as a development opportunity and could accommodate a building of over 300,000 square feet. The Columbus Circle site could command as much as $300 million, according to Crain's New York, which first reported the news.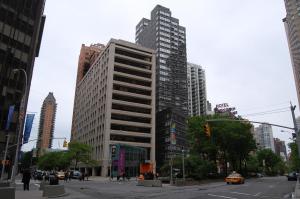 "1865 Broadway offers an extremely rare, scalable development site located in one of the most exclusive sections for super-luxury development," said Helen Hwang, an executive vice president at Cushman & Wakefield, in a statement. "The chance to construct a market defining brand in a globally recognized location will place 1865 Broadway at the top of the list of major developments occurring anywhere in the world."
American Bible Society, a non-denominational, non-profit organization, translates, publishes and distributes copes of the Bible. Founded in New York in 1816, the organization has occupied its Columbus Circle headquarters for 48 years.
"The 1865 Broadway property has served us well for nearly 50 years. The decision to sell the property was made to unlock the value of the site to further the mission of American Bible Society," said Pieter Dearolf, the organization's chairman, in a statement. "As we approach a third century of mission, we are laying the groundwork for the next 100 years of inviting people to experience the life-changing message of the Bible."
Ms. Hwang, Nat Rockett, Steve Kohn, Karen Wiedenmann and Brian Szczapa, are marketing the site on behalf of American Bible Society. C&W will also assist the organization in selecting a new site.