A Look Inside Columbus Circle's Turn-Style
---
---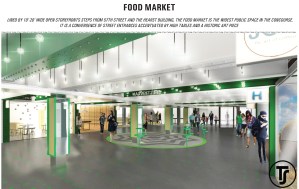 Get ready for a dynamic 14,750-square-foot transit marketplace just outside of the Columbus Circle subway station. Called Turn-Style, the underground concourse will comprise 34 stores ranging from 153 to 662 square feet when it opens in the spring of 2015. The rents are $300 to $400 per square foot for five- to 10-year terms, according to the Lansco retail team of Lisa Rosenthal, Ryan Bergman and Robin Abrams that is marketing the space.
Commercial Observer got its hands on the marketing flyer for Turn-Style, which includes some cool renderings and interesting details about the project.

"This is not your typical subway concourse, with a shoe repair and newsstand as you go up the stairs," the Lansco team said via email. "This is 15,000 square feet with 30 shops connected to transit, Time Warner/Columbus Center, office buildings like the Hearst Building, Central Park, etc. We like to think of what has transpired at Grand Central, Rockefeller Center and other urban venues where there is a cohesive, synergistic group of retail and food tenants catering to a sophisticated customer base."
Turn-Style has "three distinct shopping environments in one great concourse:" grab 'n go, retail and a food market. The space spans the northeast corner of 58th Street and Eighth Avenue in the Time Warner Center to the southeast corner of 57th Street and Eighth Avenue in the Hearst Tower. While there will be food tenants, no full-cooking ones are permitted. Lansco was in talks with Swatch, Blue Mercury, Jacques Torres, Magnolia bakery, Argo Tea, Financier, Ignazio's Pizza, Beer Table to Go and Bento Sushi, according to an email sent to real estate brokers.
"Food courts in my opinion are genius," said Eastern Consolidated's James Famularo. "They give emerging chefs and restaurateurs an opportunity to create a low cost QSR (quick serve restaurant) and safely allow the landlords to collect more rents without putting unneeded pressure on the operator. We'll be seeing many more like this soon."
Last November the Metropolitan Transportation Authority selected developer and project manager Susan Fine of OasesRE and Columbus Development LLC to transform the station into a high-end retail destination, as Commercial Observer previously reported. The architect for the project is Architecture Outfit.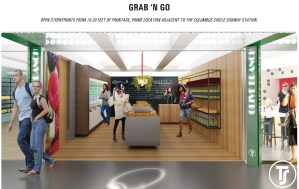 The layout of the grab 'n go storefronts will be open with 15 to 20 square feet of frontage. For the retail, there will be 11-foot doors "aside fully glazed storefronts." They, too, will have 15 to 20 feet of frontage. And the food market will be lined by 10- to 20-foot-wide open storefronts. It will be the widest public space in the concourse and will be "accentuated by high tables and a historic art piece."
"Customers can enter the project as they exit the subways (which 90,000 people do daily through the Columbus Circle subway turnstiles—thus the name Turn-Style—as well as from several branded entrances at street level," the Lansco team said. "One of the entrances to the project is located directly at escalators/elevators outside of The Shops at Columbus Circle."
Architecture Outfit
,
Argo Tea
,
Beer Table to Go
,
Bento Sushi
,
Blue Mercury
,
Central Park
,
Columbus Circle
,
Columbus Development LLC
,
Financier
,
Grand Central Terminal
,
Hearst Tower
,
Ignazio's Pizza
,
Jacques Torres
,
James Famularo
,
LANSCO
,
Lisa Rosenthal
,
Magnolia
,
Metropolitan Transportation Authority
,
OasesRE
,
Robin Abrams
,
Rockefeller Center
,
Ryan Bergman
,
Susan Fine
,
Swatch
,
Time Warner Center
,
Turn-Style
,
Eastern Consolidated