Strength in Real Estate Stocks May Signal Merger/Acquisition Spike
---
---
The bumpy start to the S&P 500 index so far this year is no match for the gains seen among two of commercial real estate's largest firms, and a report in the Wall Street Journal argues that investors' faith in continued prosperity could signal an active year for mergers, acquisitions and expansions in the industry.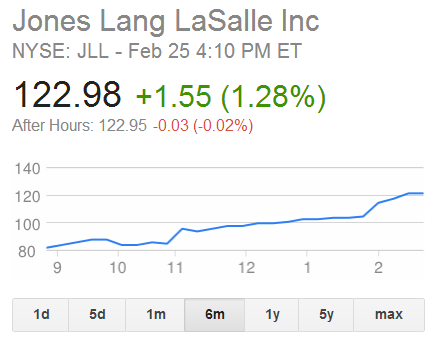 While the S&P is down about 0.7 percent since Jan. 1, CBRE's shares are up 4.3% and Jones Lang LaSalle's is up 18.3%; with both stocks, listed on the New York Stock Exchange, trading near their 52-week highs, while Jones Lang LaSalle is close to setting a record.
Big brokerage firms are reluctant to use shares to finance acquisitions, but increased profits "empowers them" to expand offices, hire staff and make strategic acquisitions of smaller firms, the report stated.
CBRE spent $545 million on acquisitions in 2013 and announced that acquisitions of a German real estate consulting firm and parts of the Furman Co. are ahead in 2014; while Jones Lang LaSalle is making acquisitions, hiring staff and opening two offices a year in China. The optimism could also rekindle talk of Exor SpA selling Cushman & Wakefield, the article noted.
While CBRE and JLL shares performed well last year, up 32.2% and 22.7%, respectively, the S&P had a good year as well with a 29.6% gain.