REBNY President Steven Spinola Honors Larry Silverstein
---
---
REBNY President Steven Spinola is praising friend and Silverstein Properties, Inc. Chairman Larry Silverstein for the progress made at the World Trade Center site and his various contributions to New York City real estate.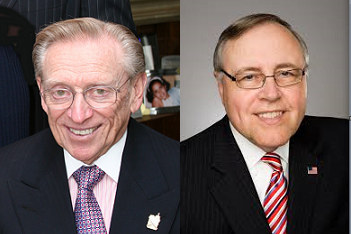 Mr. Spinola published an article in Real Estate Weekly yesterday highlighting and lauding Mr. Silverstein's accomplishments encompassing "more than a lifetime's worth of success" following the 82-year-old's recent announcement that he would step down as co-CEO of SPI.
"I would like to thank Larry Silverstein for his unwavering commitment to bettering New York; I am honored to call him a friend," Mr. Spinola wrote.
"As chair of SPI, Larry will continue to be a force in Lower Manhattan and around the world. I look forward to continuing to work with him on efforts to improve our great city." 
Mr. Silverstein stepped down last month as co-CEO of SPI, which he helped found nearly six decades ago, passing the torch to Marty Burger. 
"After signing a groundbreaking 99-year lease for the original World Trade Center, Larry shocked the world by declaring his intention to rebuild the site following the tragedy of September 11," Mr. Spinola wrote. "Fast-forward to today, almost three completed buildings into the $20 billion project, SPI's commitment to Lower Manhattan helped spark a wave of re-investment that is quickly turning the area into the global standard for modern business districts."  
Mr. Spoinola highlighted the opening of 7 World Trade Center, the ribbon cutting at 4 World Trade Center and landing Group M at 3 World Trade Center; SPI's construction project at 30 Park Place, as well as the firm's work in Florida and global markets. He noted Mr. Burger's "exceptional deal-making skill" in arranging for the firm's new office and luxury shopping complex in Warsaw, Poland; as well as the firm's winning bid for a 12.5 acre development site in China's southern Guangdong province. 
3 World Trade Center
,
30 Park Place
,
4 World Trade Center
,
7 world trade center
,
Group M
,
Inc.
,
Larry Silverstein
,
Marty Burger
,
Steven Spinola
,
Real Estate Board of New York
,
Silverstein Properties