Microsoft Recruiter Inks Deal at Kent Swig's 110 William Street
---
---
Nigel Frank International has signed a five-year, 14,000 square foot lease at Swig Equities' 110 William Street.
The company, established in 2006 in Newcastle, England, recruits employment candidates for Microsoft partners and end users.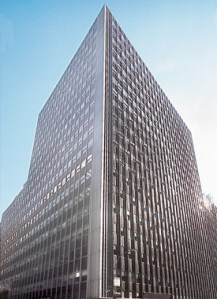 "We are excited to be locating our new facility in 110 William Street, in the heart of the exciting FiDi neighborhood," said Kevin Jarvis, president of Nigel Frank International, in a statement sent to Commercial Observer, noting the appeal of the building's location just one block away from the Fulton Street Transportation Hub. 
The 900,000-square-foot, 32-story office building was originally constructed in 1918 and later redesigned in 1959, with Swig Equities later completing a major capital improvement program that included lobby renovations, façade upgrades and modernized high-speed passenger elevators.
"We continue to experience strong attention in our FiDi portfolio from a massive cross section of businesses, including technology leasing and educational institutions," said Kent Swig, president of Swig Equities, in a statement. "FiDi offers great value, convenient access to transportation and a thriving atmosphere, unique to any other neighborhood in Manhattan."
Swig Equities' Jonathan Dean represented the landlord, while Colliers International's Seth Hecht represented the tenant.
"110 William Street offers our tenants the contemporary luxury and convenience they seek, while the building's setback design provides well-organized floor plates with great views and light for tenants to convert space to meet their own distinctive needs," Mr. Dean said in the statement.
Over the summer Helbraun, Levey & O'Donoghue LLP and EP Engineering both signed leases in the building. Nigel Frank International has additional offices in London, San Francisco, Singapore and Melbourne.