Massey Knakal Arranges $78 M. South Brooklyn Sale
---
---
Massey Knakal has arranged the sale of a portfolio of eight buildings within a three-mile stretch of the Brighton Beach, Sheepshead Bay, and Gravesend neighborhoods in Brooklyn for $78 million.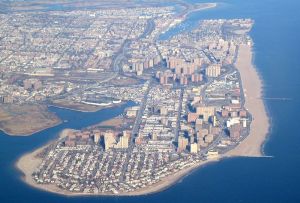 The portfolio includes Manhattan Beach Estates, a beach front-property at the end of Riegelmann Boardwalk on the eastern edge of Brighton Beach.  
"This transaction affirms that these well-established Southern Brooklyn neighborhoods continue to be desirable communities for residents and investors alike," said Massey Knakal's Alex Svetlakou, who handled the transaction with Chairman Bob Knakal, in a statement.
While "most of the buildings are built to their [full] potential," Manhattan Beach Estates offers almost 43,000 square feet of development rights for significant value-add potential, according to the firm. 
The properties total approximately 416,352 square feet, with 452 rent-stabilized units, with the sale price equating to approximately $187 per square foot and $173,000 per unit.
The Manhattan Beach Estates, located at 200 and 210 Brighton 15th Street and 211, 1511, and 1521 Brightwater Avenue, feature 228 units and across approximately 206,432 square feet.
The portfolio also includes 357 Avenue P, a 42,000-square-foot building with 53 units; 79 Brighton 11th Street, 50,500 square feet with 59 units; 125 Brighton 11th Street, 117,600 square feet with 112 units.
A remaining piece of the original portfolio, 2835-2875 Ocean Avenue, is still on the market for $34 million. Located four blocks from Sheepshead Bay, it features 200 rental units across 159,996 square feet.
The buyer and seller were not disclosed.