Junior's Brooklyn Location on the Block
---
---
Junior's Most Fabulous Cheesecake and Desserts has put its 386 Flatbush Avenue Extension location in Downtown Brooklyn on the market.
The site boasts 102,500 buildable square feet and is expected to be converted into a luxury residential building by the eventual buyer with a Junior's location returning to the base of the property. In the meantime, Junior's is looking for temporary space to relocate the business while simultaneously exploring a second permanent Brooklyn location.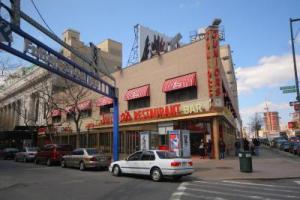 Junior's ownership has enlisted Robert Knakal, chairman of Massey Knakal, to market the site.
"Based on the quality of the location, I'm sure the overwhelming majority of Brooklyn and Manhattan developers would love to be there, it really is a world class location in every regard," Mr. Knakal told Commercial Observer.
An additional 250,000 square feet of air rights from an adjacent landmarked building could be transferred to the Junior's site, Mr. Knakal noted. Mr. Knakal declined to comment on pricing but an earlier report by The New York Post indicated the site could draw bids between $45 million and $55 million. 
Founded in 1950, Junior's has grown beyond Brooklyn and now operates locations at Grand Central Terminal, Times Square and Foxwoods. Though famous for its cheesecakes and desserts, the menu at Junior's includes deli sandwiches, steaks and seafood.