Blue Ribbon Sushi Joins List of Fast-Casual Concepts at Brookfield Place
---
---
Blue Ribbon Sushi has signed on as the latest quick-casual concept to hit Hudson Eats, a collection of chef-driven eateries at the revamped Brookfield Place.
The 10-year lease covers a 950-square-foot shop that plays on the success of the acclaimed Blue Ribbon Sushi location off of Spring Street in SoHo, once again teaming Blue Ribbon's Eric and Bruce Bromberg with sushi master Toshi Ueki.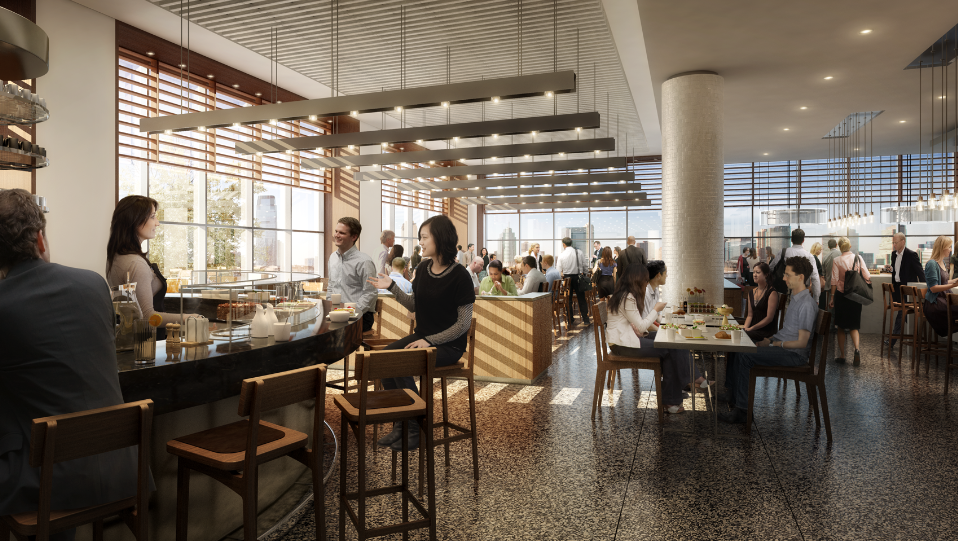 "They've never done a fast-casual dining concept, but they looked at what we've created at Brookfield Place and knew that they wanted to be a part of it," Edward Hogan, Brookfield Office Properties' national director of retail leasing, told Commercial Observer. 
The AvroKO and BCV Architects-designed Hudson Eats, a collection of 14 quick service eateries, which Mr. Hogan noted have proven abilities to handle heavy volume, will be situated on the second floor of Brookfield Place, featuring a waterfront terrace overlooking the Hudson River marina.
"We've selected chef-driven concepts that are best in class," Mr. Hogan said. "Our goal was to bring together the best of what New York has to offer with a variety of cuisines in one spot."   
Hudson Eats will open this spring with a roster that includes Umami Burger, Dos Toros Taqueria, Chop't, Dig Inn, Num Pang, Sinny Pizza, Sprikles Cupcakes, Little Muenster, Mighty Quinns, Tartinery and Olive's, with each taking between 700 and 1,000 square feet of space.   
In addition to communal seating for 600 across Hudson Eats' 30,000 square feet, Blue Ribbon Sushi's 950-square-foot space will offer some additional seating along its sushi bar, moving away from waiter service to fit the format but offering takeout. 
"We're thrilled to be joining Brookfield Place in this beautiful space where sushi lovers can enjoy Blue Ribbon Sushi while taking in the stunning Hudson River views," said Eric Bromberg, in an emailed statement. "We look forward to serving the TriBeCa, FiDi and Battery Park City community and will also offer takeout, catering and delivery, bringing our traditional Japanese sushi right to their door."
The renovated Brookfield Place complex will also feature a 25,000-square-foot French-inspired marketplace, Peter Poulakakos' Le District, a concept akin to a French version of Mario Batali's Eataly, situated directly below Hudson Eats and offering fresh meats, seafood, produce, coffee, desserts and a 10,000-square-foot outdoor dining area; as well as five waiter service restaurants, one of which was recently announced as Parm.  
Mr. Hogan called the lineup a "new global culinary destination, bringing together world-class chefs and restaurateurs, cutting-edge concept eateries, as well as beloved, iconic restaurants." 
Following the completion of the $250 million renovation that repurposes Brookfield Place's 250,000 square feet of retail space, the destination will also give rise to an unprecedented high end retail lineup for Downtown, including Michael Kors, Hermes, Calypso, Salvatore Ferragamo, Judith & Charles, Scoop NYC, Zegna and Theory, as well as lifestyle companies Bright Horizons, Equinox and Ice. 
Brookfield was represented in-house on the Blue Ribbon Sushi deal by Mr. Hogan and Jason Morrison, while Stephen Plourde and Alissa Bersin of The McDevitt Company represented the tenant. Asking rents could not be determined in time for publication. 
Founded in 1992 by the Brombergs, the Blue Ribbon family of restaurants in Manhattan include Blue Ribbon Sushi, Blue Ribbon Bakery, Blue Ribbon Sushi Bar & Grill, Blue Ribbon Market, Blue Ribbon Downing Street Bar, Blue Ribbon Sushi Izakaya, and Blue Ribbon Fried Chicken; with additional concepts and counterparts in Brooklyn, Las Vegas and London.   
AvroKO
,
BCV Architects
,
Blue Ribbon Sushi
,
Brookfield Office Propertie
,
Brookfield Place
,
Bruce Bromberg
,
Chop't
,
Dig Inn
,
Dos Toros Taqueria
,
Eataly
,
Edward Hogan
,
Food & Drink
,
Hudson Eats
,
Hudson River
,
Le District
,
Little Muenster
,
Mario Batali
,
Mighty Quinns
,
Num Pang
,
Olives
,
Peter Poulakakos
,
Sinny Pizza
,
Sprikles Cupcakes
,
Tartinery
,
Toshi Ueki
,
Umami Burger