Batting 1000: Jonathan Butler on his Crown Heights Development
---
---
In July 2010, Jonathan Butler, Brooklyn's "Brownstoner" blogger and Brooklyn Flea co-founder, published a post about 1000 Dean Street, a 140,000-square-foot abandoned commercial building and former Studebaker service station in Crown Heights. The building, then listed for $14 million, sat in what Brownstoner called "the most interesting, untapped area of Brownstone Brooklyn."
"If only we had the $5 million or so that will be required for a down payment," Mr. Butler wrote.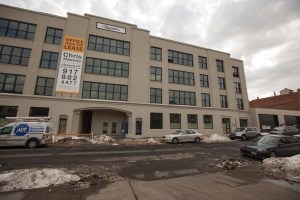 As it turned out, less than two years later, Mr. Butler found a way to make it work. Partnering with BFC Partners and the Goldman Sachs Urban Investment Group, Mr. Butler closed on 1000 Dean Street for $11 million, with an eye toward transforming the building into workspace for Brooklyn's creative class.
Today, redevelopment work is wrapped up at the property, and the building is set for a spring debut. Inspections and occupancy permits are the only hurdles left to overcome. 
Already, the building is nearly 30 percent leased, according to Chris Havens, a broker at aptsandlofts who is handling leasing for the property. Tenants committed to the project run the gamut of industries and include film and media, e-commerce, architecture, publishing and even a yoga instructor.
"This is the 11th building I've worked on, and I've never seen a building lease like this without a firm occupancy date," Mr. Havens told Commercial Observer. "It will probably be one-third leased by the time we find out our date."
The building's early success comes in spite of the fact that 1000 Dean lost its 40,000-square-foot anchor tenant, 3rd Ward, last year. That Bushwick-based studio and design collective shuttered suddenly last October and immediately called into question its future at 1000 Dean Street, where it had committed to establishing a culinary incubator at the new development. An alternative kitchen incubator is currently being considered for the ground floor, according to Mr. Havens.
Asking rents at 1000 Dean Street range from $20 to $35 per square foot, with floor plates varying from a few hundred square feet to nearly 30,000 square feet. For those tenants being priced out of other areas of Brooklyn, 1000 Dean Street offers an enticing alternative.
"In terms of what's available out there, it's as cheap as it gets until you get down to Industry City," Mr. Havens said. "It's 50 percent less than Dumbo."
Legitimate questions have been raised about the viability of an office development in Crown Heights, a rapidly gentrifying but still rough-around-the-edges neighborhood in central Brooklyn. But industry sources say they expect 1000 Dean to be a success.
"I think the project is viable. You have a lot of creative people living in areas like Crown Heights and some of the other neighboring communities," said Glenn Markman, an executive vice president at Cushman & Wakefield. "I expect 1000 Dean to be successful."
Mr. Butler, who lives in Clinton Hill, has no concerns about the location.
"In the last year, Crown Heights hasn't had any trouble attracting good press," he said. "I have no concern about location. Hopefully, there will be a decent amount of publicity around it."
In addition to the office space at 1000 Dean Street, the development will also boast a 400-seat beer hall and food court at 899 Bergen Street, dubbed Berg'n. 
Located between Classon and Franklin Avenues, Berg'n will be directly connected to 1000 Dean Street through a main hallway. Patrons of Mr. Butler's Brooklyn Flea and Smorgasburg projects will be familiar with the vendors at Berg'n: Mighty Quinn's BBQ, Ramen Burger, Asia Dog and Pizza Moto.
Berg'n will also boast a 40-foot-long bar with 12 beers on tap, all selected by Garrett Oliver of Brooklyn Brewery. "He's picking beers on a seasonal basis from around the world," Mr. Butler said. "Brooklyn Brewery will often make a couple of barrels of something experimental, and this will be a place where you can get that limited-quantity, small-batch stuff."
Mr. Butler and his partners, including Flea co-founder Eric Demby, have aimed for an environment "that feels like a high-quality establishment but doesn't take itself too seriously." The majority of the offerings will cost under $10, and the space will feature what Mr. Butler estimates is the largest screen of any bar in Brooklyn. He expects to use the screen to broadcast events like the World Cup, World Series and, believe it or not, the State of the Union address. 
In addition to the indoor amenities, there will also be an 80-seat outdoor courtyard at Berg'n, as well as an 800-square-foot event space for private functions.
As much as 1000 Dean Street and Berg'n have been designed to cater to the Brooklyn creative class, Mr. Butler hopes that Manhattanites will make the trek to Crown Heights. 
"I think it can be a very nice business if it's just local people within walking distance, but I think to be a home run it will have to be attracting people from further afield, and I am hopeful it can do that," he said. "It' so close to the Brooklyn Museum and Prospect Park; I can see how people from Manhattan will make a day of it."
Still, there are challenges ahead. Unlike Dumbo, which has blossomed with office and retail space in the last decade, there is very little additional space set to come online in Crown Heights.
"The big challenge overall in that area is there is no other big product behind [1000 Dean]," Mr. Markman said. "It is hard to see any area be successful with one asset; you do need neighboring properties to make it work."
The lack of commercial stock in Crown Heights shouldn't take away from the optimism about 1000 Dean Street, however. 
"I think that building will be fine," Mr. Markman said. "It will rent up, and it will be a success."