"Amish Mafia" Producer Signs 111 Broadway Sublease
---
---
Hot Snakes Media, the production company behind Amish Mafia and Breaking Amish, has signed a 22,000-square-foot sublease on the 19th floor of 111 Broadway, Commercial Observer has learned.
The tenant will pay rent in the mid-$20s per square foot in a four-year deal, according to data from CompStak.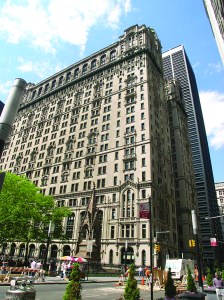 The sublessor, inVentiv Health, signed a lease for the space in 2007 and pays in the mid-$40s per square foot, according to CompStak. The 19th floor space was previously the home of Chamberlain Healthcare Public Relations, an inVentiv Health subsidiary. InVentiv Health was represented by Wes Rudes, Howard Cross, Elyse Schindler-Candella and Robert Sattler of Cresa.
Part of a two building complex known as Trinity Centre, 111 Broadway and its sister property 115 Broadway boast 900,000 square feet of space. Built in 1905 and 1907, respectively, the 22-story Financial District properties were designated New York City landmarks in 1985.
As reported by Commercial Observer, Capital Properties' 111 Broadway welcomed a number of new tenants last year, including Demetriou General Agency, CHCANYS and Perez & Cedeno. CHCANYS, a non-profit healthcare organization, signed the largest of the deals: a 7,391-square-foot lease on the 14th floor of the property. Asking rent was $35 per square foot.
111 Broadway
,
115 Broadway
,
CHCANYS
,
CompStak
,
Cresa
,
Demetriou General Agency
,
Elyse Schindler-Candella
,
Hot Snakes Media
,
Howard Cross
,
inVentiv Health
,
Perez & Cedeno
,
Robert Sattler
,
Wes Rudes