Adding Value with Neil Kessner
---
---
On June 17, 2013, the head of SL Green's in-house legal team, Neil Kessner, hopped on the subway with the firm's president, Andrew Mathias, and headed to 1 Saint Andrews Place to meet retail bigwig Jeff Sutton for a meeting with the U.S. Attorney's Office's head of forfeiture, Sharon Cohen Levin.  
The SL Green/Sutton team had won an RFP issued in October 2012 to purchase the 49-year leasehold interest on the roughly 32,000-square-foot retail condo at 650 Fifth Avenue, signing a letter of intent for the leasehold on January 2013.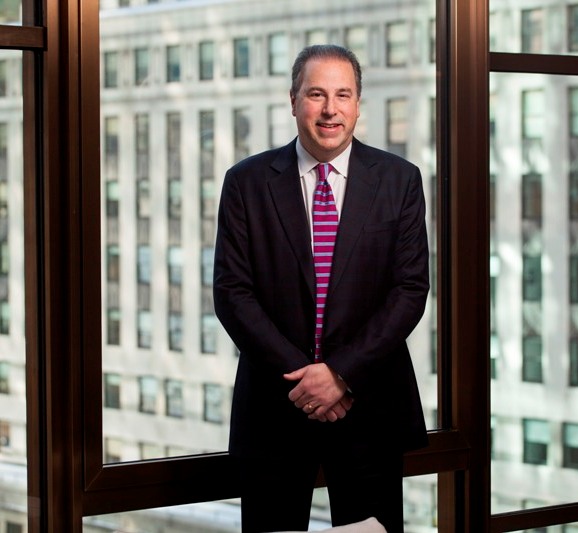 The meeting would be a crucial step toward gaining final approval after a U.S. Marshals Service-appointed appraiser unexpectedly urged the U.S. Attorney's Office not to approve the deal, arguing that it would not generate enough income to maximize returns on an eventual sale of the government-seized property.  
"They failed to recognize that a long-term leasehold held by a credit-worthy entity such as ourselves would actually maximize the price, given the strength of the current market," Mr. Kessner said. 
Mr. Kessner and his cohorts would have to convince Ms. Levin, who has raked in billions on behalf of the U.S. Attorney's Office, attacking everyone and everything from Bernie Madoff to banks and drug cartels, that the U.S. Marshals' appraiser had been mistaken.
"We tried to articulate why we felt that the U.S. Marshals Service missed it," he said, recalling the deal and the complex negotiations as a "complex maze."  
Mr. Kessner and company offered prime examples of similar retail deals that had actually boosted the values of their respective buildings, including a Crate & Barrel renewal at 650 Madison Avenue and the Simpson Thacher renewal at 425 Lexington Avenue.  
"Those had resulted in very, very effective sale executions at remarkably low cap rates," Mr. Kessner said. 
The evidence was convincing, but Ms. Levin wouldn't budge—not yet. 
Meanwhile, other prominent real estate firms hovered, seeking to hijack the deal. They attempted to convince now-retired U.S. Magistrate Judge Kathleen Roberts, who was behind the seizure of the property, that they would bring the greatest value to the building, which had alleged ties to Iranian-sponsored terrorism.
"It was a very, very, very ugly situation," Mr. Kessner said. "Very ugly."  
But the meeting ultimately swayed Ms. Levin to reappoint a second appraiser for the SL Green/Sutton plan, and within a month's time, that appraiser had determined that Mr. Kessner's assessment and approach would in fact boost the building's value in the event of a sale. By September 2013, Ms. Roberts ordered Alavi Foundation and Assa Corporation, the building's owners, to forfeit their ownership stakes in the building.
The Shah of Iran built the building in the early 1970s, and its subsequent owners had allegedly laundered money for the Iranian government, with the minority stakeholder allegedly tied to horrendous acts of terrorism, including 9/11, embassy bombings throughout Africa, various assassinations and bombings in Jerusalem. 
The list of horrors, which goes on, landed the organization on the U.S. Department of the Treasury's Office of Foreign Assets Control list, which names properties tied to "mass destruction proliferators and their supporters," resulting in a string of public and private lawsuits filed by victims' families. 
"It was for our benefit and for their benefit as well that we went through this ordeal," Mr. Kessner said, reflecting on a transaction that his team structured and negotiated and which ultimately took on a deeper meaning when the forfeiture was officially announced on Sept. 11, 2013. "We were happy to be a part of this."  
Mr. Kessner, who joined SL Green in 2000, sits on the ground floor of some of the company's biggest and most complicated transactions, directs all legal activities associated with the leasing and management of the buildings in SL Green's vast portfolio; and works hand in hand every day with Steve Durels, the director of leasing, as well as the firm's acquisition/disposition and accounting teams.  
"Once the term sheet is signed, the ball is handed over to me and my team, and our job is to get the ball over the goal line," he said. The more complicated term sheets are also called to his attention, in addition to the negotiations of lease agreements, associated consents from (and negotiations with) lenders and more. 
Mr. Kessner, a Long Island native, got his start as a real estate litigator in federal court after graduating with a J.D. degree from New York Law School in 1982. He later transitioned into leasing, having taken a liking to its various moving parts. From 1998 to 2000, he was the associate general counsel for Williams Real Estate Co., a leading New York City real estate management and brokerage firm. Prior to that, he was a co-partner at Kessner & Mass, where he represented a large client base of prominent commercial landlords, office and retail tenants, some of whom—230 Park Avenue and 140 Broadway, for example—were tied to Helmsley partnerships. 
As executive vice president of the general counsel of real property at SL Green, Mr. Kessner has worked on a string of recent transactions that have proven to be among the largest and most complex of his career. They include the 650 Fifth Avenue deal, as well as Citigroup's massive extension of a triple net lease at SL Green and Ivanhoé Cambridge's 388-390 Greenwich Street. The latter saw the top-tier banking institution holding onto the 2,634,670-square-foot building through the end of 2035, with an option to purchase the property between Dec. 1, 2017, and Dec, 31, 2020. Mr. Mathias, the firm's president, has referred to the deal as a "crowning achievement." 
1 Saint Andrews Place
,
388-390 Greenwich Street
,
650 Fifth Avenue
,
Andrew Mathias
,
bernie madoff
,
Citigroup
,
Graybar Building
,
Iran
,
Jeff Sutton
,
Neil Kessner
,
Shah of Iran
,
Sharon Cohen Levin
,
SL Green Realty Corp.
,
Steven Durels
,
Terrorism
,
U.S. Attorney's Office
,
U.S. Magistrate Judge Kathleen Roberts
,
U.S. Marshals Servic