Acuity Capital Partners Sells Vacant Garment District Loft for $42.5M
---
---
Real estate investment and asset management company Acuity Capital Partners has sold 335 West 35th Street in the Garment District for $42.5 million. 
The 73,000-square-foot, 12-story commercial loft building between Eighth and Ninth Avenues is currently vacant.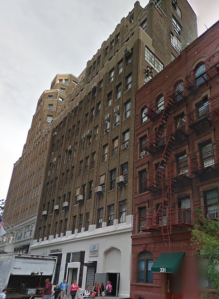 "We are fortunate to have sold this remarkable property to an owner that recognizes its value proposition," said Elliot Neumann, Acuity's chief executive, in a statement. "Acuity continues to grow strategically throughout New York City. With the sale of 335 West 35th Street, [we] will be able to expedite the next phase of its New York City investment strategy."
Mr. Neumann, formerly of Park Avenue Funding, recently formed Acuity and will draw upon his nearly $2 billion worth of real estate asset management experience and relationships with institutional and high net worth capital partners to expand its New York City footprint, according to a statement announcing the sale.
In December Acuity reportedly made its first acquisition when it purchased The Greystone at 212 West 91st Street for $139 million from Brack Capital Real Estate, with Aaron Jungreis, president of Rosewood Realty Group arranging the sale.
At the time Mr. Neumann called the property "a quintessential Manhattan building," noting that  the company's initial purchase would "enable us to meet the objectives set forth for our investors."
Christen Portelli of Highcap Group represented the seller and purchaser (who was undisclosed) in the West 35th Street deal. 
In early 2012 the building, then 90 percent occupied at below market rate rents, was floated around at an asking price of $27 million.