A Spec Office Building Signals W'burg's Transformation Into a 24-7 Destination
---
---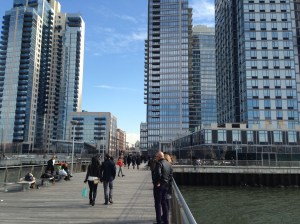 Williamsburg's real estate success story has mostly centered on its residential boom—until now. With a new speculative office tower planned for the Brooklyn neighborhood and high-profile retailers preparing to set up shop, the former industrial area and hipster haven is becoming a hotbed of major league commercial activity.
The neighborhood has been abuzz over, and not always happy about, its residential development, which, with many more projects on the horizon, continues to overshadow the commercial market. There are more than 6,100 residential units in the pipeline, according to data compiled by MNS in January. 
Now, companies are looking to open offices in Williamsburg and not just because of its close proximity to Manhattan. 
"There are a lot of people that want to get in," said Christopher Havens, the director of the commercial real estate division at aptsandlofts.com and a columnist for Commercial Observer. "There is no space. The same thing is happening in Dumbo. What's happened is Brooklyn has reached a height of popularity."
One reason for Williamsburg's increasing commercial appeal is the influx of affluent creative and technology-savvy residents who frequent high-end shops and want to work near where they dwell. Also, companies looking to accommodate remote employees in-house are opening up offices close to where their Brooklyn employees live.
"It's a Brooklyn-to-Brooklyn commute," said Dave Behin, the president of the investment sales and advisory division at MNS.
While there is a dearth of commercial space in Williamsburg, a couple of developers are trying to ameliorate that.
Two Trees Management is developing the former Domino Sugar Factory in a plan that will triple the amount of office space in Williamsburg and house between 3,000 and 4,000 office workers in more than 500,000 square feet of space.
Not only do firms want to be in Williamsburg, now they are also seeking larger spaces in the 100,000-square-foot-plus range, said Geoff Bailey, a broker with SCG Retail. And there aren't many such spaces.
In a bold and unusual move, Heritage Equity Partners is developing  19 Kent Avenue (a.k.a. 25 Kent Avenue), which spans an entire city block between Kent and Wythe Avenues and 12th and 13th Streets, into a spec office building. 
"I don't think there's been a spec building built since the 1920s in Brooklyn," said Mr. Havens, who is marketing the Kent Avenue property. Heritage Equity's CEO Toby Moskowis did not immediately respond to requests for comment.
Mr. Havens said he is talking to prospective tenants in the creative and tech world that would be willing to pay $35 to $50 per foot in the Kent Avenue building. [A version of this story that appeared in print included asking rents figures of $65 to $80 provided by Mr. Havens that he later amended to $35 to $50.]
The neighborhood can command such high prices because of the squeeze on office space and the precedent set by other big commercial projects like the Domino plant and Dumbo's Empire Stores complex and Watchtower properties. Mr. Havens put the Empire Stores rents, where West Elm took space, at $50 per square foot.
"Those numbers are high and support what we're doing in Williamsburg," Mr. Havens said.
On the retail side, Williamsburg has become more high-end and mainstream as the neighborhood demographics have shifted from immigrants and scruffy artists to gainfully employed young adults and well-off families.
"Now you're starting to see retail take off there," Mr. Bailey said. "You're seeing national retailers come into the market. If they have a store in Soho, they are looking in Williamsburg."
Whole Foods is slated to open inside a full-block development at 240-242 Bedford Avenue next year. While construction has halted at 240-242 Bedford, Michael Sinatra, Whole Foods' spokesperson for the Northeast region, said, "We're still committed to the project." The developer of 240-242 Bedford Avenue, A&H Acquisitions, didn't immediately respond to a request for comment.
National companies like Urban Outfitters and Amazon have also signed deals in the 'hood. A broker with extensive knowledge of the local market confirmed that Apple is, in fact, coming to 247 Bedford Avenue, an address that clean-cut clothing giant J. Crew, which just a few years ago would have represented an affront to Williamsburg grunge,had reportedly considered. When 247 Bedford commenced leasing in 2012, asking rents were between $185 and $200 per square foot, The Real Deal reported.
Isaac Chera of Crown Acquisitions, which has owned properties in Downtown Brooklyn since the 1940s, said that while his company doesn't have any projects in Williamsburg, he projects an uptick in retail rents.
"Although rents on key streets have risen quite a bit since the beginning of the reinvigoration of the market," Mr. Chera said, "I still feel there is room to grow."
19 Kent Avenue
,
240-242 Bedford Avenue
,
247 Bedford Avenue
,
25 Kent Avenue)
,
A&H Acquisitions
,
Amazon
,
aptsandlofts.com
,
christopher havens
,
Crown Acquisitions
,
Dave Behin
,
Domino Sugar Factory
,
Empire Stores
,
Geoff Bailey
,
Heritage Equity Partners
,
Isaac Chera
,
J.Crew
,
Michael Sinatra
,
MNS
,
SCG Retail
,
Toby Moskowis
,
Urban Outfitters
,
Watchtower
,
West Elm
,
Whole Foods Market