Wasabi Rabbit Relocates to 19 Fulton Street
---
---
Digital marketing and advertising agency Wasabi Rabbit has traded Midtown South for Lower Manhattan, signing a lease for 3,685 square feet on the third floor at 19 Fulton Street, The Commercial Observer has learned.
The tenant will pay rent in the mid-$30s per square foot in a five-year deal, according to data from CompStak.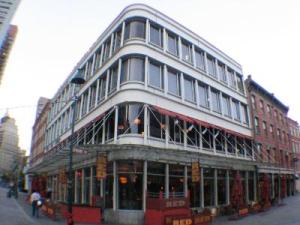 Wasabi Rabbit, previously headquartered at 79 Madison Avenue had outgrown its Midtown South space and was looking for a location on the brink of new development.
"Our owner wanted a space on the cusp of something new and he really liked what he saw in terms of what is happening with the South Street Seaport," said Hael Fisher, director of technology at Wasabi Rabbit. "He wanted our organization to be part of the catalyst in the area."
A veteran-owned business, Wasabi Rabbit is led by John Mustin, a Captain in the U.S. Navy Reserve and a veteran of both Operation Enduring Freedom and Operation Iraqi Freedom. Mr. Mustin, a graduate of the United States Naval Academy, is a recipient of the Meritorious Service Medal.  
The property at 19 Fulton Street is owned by the Department of Parks and tenants in the building do not pay real estate taxes. Wasabi Rabbit built out the space in collaboration with the landlord. The space was previously laid out in a traditional office style but was completely gutted to suit a more open plan space. 
With the South Street Seaport in the midst of an extensive renovation by the Howard Hughes Corporation, Wasabi Rabbit employees will have a front row seat to the transforming neighborhood.
"The entire staff is excited to be a part of what's going on with the South Street Seaport, it's really exciting and embodies the staff itself," Mr. Fisher said.
The landlord was represented in the leasing transaction by Jessica Jaber and Ken Fishel of Legacy Real Estate.