Saparn Realty Head Charged with Stealing from Brooklyn Mitchell-Lama Facility [Updated]
---
---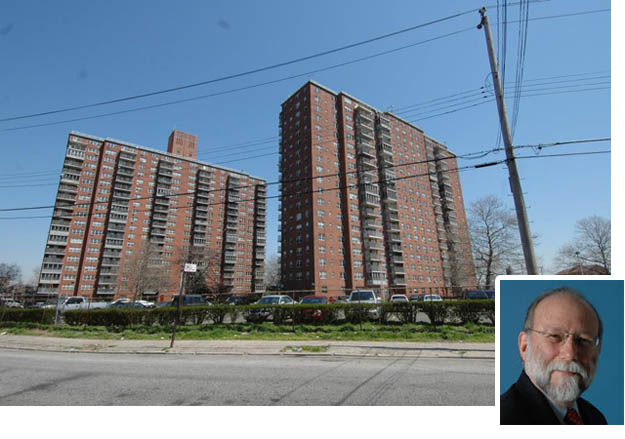 Alan Gorelick, who runs Saparn Realty along with his wife, was arrested and charged with diverting more than $600,000 from a Brooklyn complex he oversaw into his firm's business account, according to a criminal complaint.
Between 2001 and the end of 2011, Mr. Gorelick, 68, managed Harway Terrace, a two-building Mitchell-Lama co-op complex at 2475 West 16th Street in the Gravesend area of Brooklyn, containing more than 350 apartments. Between the end of 2006 and the end of 2011, Mr. Gorelick was a signatory on Harway Terrace's bank account. Mr. Gorelick diverted $610,914.94 from Harway Terrace and deposited it into Saparn's business account, "either by depositing checks from third parties written to the order of Harway Terrace or by depositing checks written against two of Harway Terrace's accounts into Saparn's business accounts," the complaint indicates.
As executive vice president of Saparn, located at 505 Eighth Avenue, between 35th and 36th Streets in the Garment District, Mr. Gorelick is the liaison with the banking community and he heads up the firm's sales and mortgage brokerage departments. He runs the firm with his wife Anita Sapirman, the complaint indicates. She is the founder and president of Saparn. A message left for Ms. Sapirman at her office was not returned.
Mr. Gorelick, a member of the Real Estate Board of New York, was arrested January 16 on one count of grand larceny and nine counts of criminal possession of a forged instrument. He has been in the Metropolitan Detention Center since his arrest, his attorney, Brian Maas of Frankfurt Kurnit Klein + Selz, said, since Mr. Gorelick did not make the $750,000 bail. 
A REBNY spokesperson said, "Our constitution provides for the immediate termination of the membership of any individual who is convicted or pleads guilty to a felony. These allegations are troubling and REBNY will take appropriate action based on the outcome of the charges. We'll await the conclusion of the judicial process."
Mr. Gorelick will be arraigned on the indictment February 19, according to the Manhattan district attorney's office. If convicted of the top charge, Mr. Gorelick could serve up to 15 years behind bars.
Harway Terrace has been managed by Metro Management Development since January 2012, according to Metro Management President David Baron.
Update: This story has been edited to reflect a comment from a REBNY spokesperson as well as the name of the current managing company for Harway Terrace.
2475 West 16 Street
,
505 Eighth Avenue
,
Alan Gorelick
,
Anita Sapirman
,
Brian Maas
,
David Baron
,
Frankfurt Kurnit Klein + Selz
,
Harway Terrace
,
Metro Management Development
,
Saparn Realty
,
Real Estate Board of New York