Sam Chang Acquires 11 West 37th Street for $8.25 Million
---
---
Prolific hotel developer Sam Chang has acquired 11 West 37th Street for $8.25 million, Commercial Observer has learned. The five-story property, the site of a former bead business, will be delivered vacant and is set to be converted by Mr. Chang's McSam Hotel Group.
"As we began the marketing process, Sam stuck his hand up way above where we expected the market to be," said David Schechtman of Eastern Consolidated, who brokered the sale on behalf of the seller, Elvee Rosenberg Inc. "He made a healthy offer on excellent terms and was able to execute very quickly."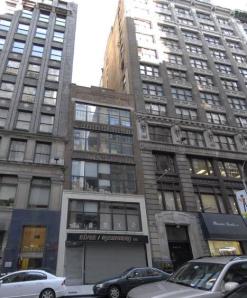 Located between Fifth and Sixth avenues, the site at 11 West 37th Street site at 11 West 37th Street boasts 14,675 square feet of unused air rights and a total of 25,000 buildable square feet. McSam Hotels was delivered keys to the property yesterday, according to Mr. Schechtman.
"I'm always excited to see what Sam is going to do," Mr. Schechtman said, adding he did not have details on the developer's exact plans.
Later this month, Mr. Chang is expected to close on the acquisition of a 10,000-square-foot lot at 326 West 37th Street, according to The Real Deal. Gene Kaufman has been tapped to design a 22-story, 88,860-square-foot hotel with 240 rooms at the site, according to TRD.
Mr. Chang, who could not immediately be reached for comment, is well known for his extensive development of budget hotels. His projects have introduced a number of affordable hotel brands to New York, including Holiday Inn Express, Comfort Inn and Hampton Inn. In a 2009 profile in The New York Times, Mr. Chang spoke of his numerous records for hotel development in New York, including the city's narrowest hotel—18 feet across—at 51 Nassau Street. The building at 11 West 37th Street boasts a width of 25 feet.
"I don't know a lot of 25-foot-wide hotels," Mr. Schechtman said.
Mr. Schechtman represented the seller alongside Steven Zimmerman. Alan Miller represented Mr. Chang.