Robin Abrams: Louis Smadbeck Broker Recognition Award
---
---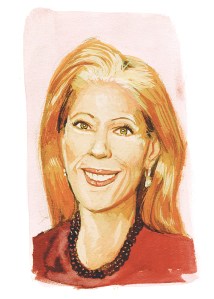 It is difficult to walk down any of New York's major fashion corridors without seeing a retail store that was brokered by Robin Abrams and her team at the Lansco Corporation. Coming to the city in the late 1970s, Ms. Lansco has climbed the ranks within the firm and stands at the forefront of retail leasing in the city, bringing in some of fashion's largest names.
"I moved to New York City in 1979 immediately after I graduated with a BFA in dance and a minor in Spanish literature," recalled Ms. Abrams of her move to New York from the Midwest. "In those days, we did not worry about making a living; we studied what we loved." 
She initially moved to a loft on Stone Street in the days before the Downtown Manhattan scene was anything like it is today. "It was a ghost town outside of business hours back then," she said. "Then I moved to West 30th Street and Eighth Avenue, which was pretty sketchy." But she remained focused on her passion, dancing with a modern dance company and a small ballet company and subsidized her income cleaning houses, go-go dancing and working as a part-time admin for Howard Dolch and Alan Victor at the Lansco Corporation.  
"My friend graduated a year earlier, and she wanted to leave her job at Lansco, so she asked if I wanted it," said Ms. Abrams. "I decided to take it. Howard and Alan were very flexible, too. I would work four hours a day and dance and rehearse in the evening."  
Her position as an admin would not only support her early years in New York but would later blossom into a career opportunity. At the time, Messrs. Dolch and Victor shared an office, and Mrs. Abrams was able to learn the ways of the real estate industry. "Once I was married and decided to quit dancing, I worked full time as an administrator," said Mrs. Abrams. "I was learning a tremendous amount sitting in the office with Howard and Alan. It was a fabulous and unique education." 
Founded in 1965 by a group of six men, the Lansco Corporation focused on office leases and only occasionally dabbled in retail. The retail market was a fraction as dynamic as it is today, and there were only a few firms in the city that bothered to specialize in it. "Once I went full time, I debated if I wanted to do office or retail," said Ms. Abrams. "I found office deals to be dry. Given my dance background and my love for amenities, I felt like retail gave me more opportunities to work with exciting tenants. Alan was also focused on building the department on fashion, and we received a lot of interest from international brands who were looking to expand in the United States." 
Mr. Victor and Ms. Abrams, who received her real estate license and became a broker at the firm, joined together to develop Lansco's retail presence. In 1986, Mr. Victor led the team on a 49-year, 24,000-square-foot deal for Polo Ralph Lauren at the Rhinelander Mansion on 72nd Street, marking the first time a TK designer leased a flagship store in Manhattan. 
That deal would be followed by a transaction at 601 Madison Avenue, otherwise known as the George Jenson Building, in which Italian fashion house Emporio Armani leased the entire building. "I remember being in my real estate continuing education class," she recalled of the deal. "The team literally came in, brought a note to my professor and took me out of class to finalize negotiations to complete the deal." 
The two would continue to build the retail department over the years, culminating in Ms. Abrams becoming a partner and principal in 1999 and the team reaching 25 retail brokers today. One of its most recent deals was Japanese retailer Uniqlo's massive flagship store in Soho at 546 Broadway. 
"There was a team of brokers at Lansco that spent 10 years working with Uniqlo to explore the market," said Ms. Abrams. "For the building, we actually approached the landlord on behalf of Liz Claiborne, who was looking at the block for anything. OMG was in the space for 6,000 square feet, and we put together a scenario where we terminated OMG and did the deal, but we found that, to make it 10,000 square feet as we wanted, we would need a special permit."
"The landlord returned, told us they felt comfortable with us and the permit and wanted us to represent them for a space of up to 54,000 square feet," she said. "We reached out to a bunch of tenants, and we never dreamed that Uniqlo would want 54,000 square feet. But then we talked with them, they got everyone involved, and the chairman thought it would be great. Nearly a decade later, they added the third floor for office space." 
Ms. Abrams' commitment to her clients has earned her recognition within the industry. The Real Estate Board of New York will present her with the Louis Smadbeck Broker Recognition Award, which honors an executive who exemplifies characteristics of a successful commercial broker, at its 118th annual banquet on Thursday. 
"I was shocked, in a very nice way, and I sent a note to [President] Steven [Spinola] at REBNY," she commented on her award. "He told me that a vote was taken by my colleagues and senior-level people in the industry, and I think that in itself is the highest honor."