REBNY Considers de Blasio's City Hall
---
---
With the fate of millions of dollars in tax incentives and millions of square feet of office space in the balance, the city's real estate industry is bracing for the impact of Mayor Bill de Blasio's cabinet appointments. But the left-leaning Democrat who won the election last fall by attacking inequality and his predecessor, Michael Bloomberg, has thus far refrained from tapping any nominees hostile to new development.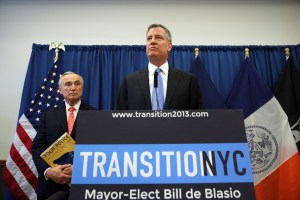 Real Estate Board of New York allies like City Planning Commissioner Amanda Burden and Deputy Mayor Daniel Doctoroff, both of whom helped Mayor Bloomberg rezone almost 40 percent of the city to clear the way for large-scale projects in every borough, have left office. Yet there's a palpable sense of relief among REBNY members as Mr. de Blasio announces Koch administration veterans for prominent posts, allows Bloomberg appointees to remain in office and takes his time with positions that will have industry-wide ramifications. This era of good feelings might not last the winter, but it's in full force as Mayor de Blasio names his administration.
"These are people who have experience, and Mayor de Blasio recognized that he would be able to move in that new direction with people who have government knowledge," said REBNY President Steven Spinola
Mr. Spinola praised Mayor de Blasio's selection of former Mayor David Koch's finance commissioner, Anthony Shorris, to be top deputy to the mayor and the choice of two other Koch officials to resolve the city's union contracts. The new deputy mayor for housing and economic development, Goldman Sachs urban investment financer Alicia Glen, will lead the mayor's tentpole effort to build affordable housing. And Kyle Kimball, the Bloomberg administration's final Economic Development Corporation president, will keep his pivotal role in the new administration, Mr. de Blasio announced on Dec. 31, just hours before he was sworn in.
"I needed someone who understood how to get the work done, who had the values and an ability to put those values into action," Mr. de Blasio told The New York Observer's Politicker blog. "He's been doing it with great distinction."
But Mayor de Blasio hasn't yet named anyone to lead the Department of City Planning or the Landmarks Preservation Commission, leaving only speculation about who will shape zoning and historic district policy. The new City Council speaker, Melissa Mark-Viverito, won the position by a council vote on Jan. 8 with the mayor's support, taking over the gavel despite a concerted $6.9 million effort by REBNY this past election to back a host of other contenders. REBNY members expressed a willingness to work with the city's new leaders as Mr. de Blasio fills out the administration.
"I think he is carefully choosing his team," said Faith Hope Consolo, a retail broker at Douglas Elliman Real Estate. "And if we can all interface with his team, it'll be O.K." (The speaker's office declined a request for comment.)
Both the city and the industry have a lot at stake in Hudson Yards and other large-scale plans. Hudson Yards, the 13-million-square-foot, mixed-use development now coming to the Far West Side of Manhattan, is the recipient of a $434 million EDC tax abatement over the next 20 years, according to an October 2013 report from the city's Independent Budget Office.
But even that project and the World Trade Center site may not be large enough to meet the demand for office space in New York. While the city had 490 million square feet of office space at the end of 2012, demand for more will grow by more than 30 million square feet over the next dozen years and outpace the available space in 2018, according to a December 2013 EDC study by Alvarez & Marsal Real Estate Advisory Services and JRT Realty Group, Inc. By 2025, there will be a 6.1-million-square-foot deficit between available office space and the demand for it, the study found. Such numbers warrant the zoning and tax incentives the Bloomberg administration used to attract tenants and investments, REBNY members said.
"Bloomberg really did a lot in that area," said Greg Smith, the executive vice president of JRT. "And a lot of these programs and the projects that they build up have come a long way, so it would only make sense that they would continue moving forward."
While it's still too early to tell what direction the mayor's appointees will be taking on such matters, the mayor's top deputy for housing certainly has experience with building. Ms. Glen lead the Goldman Sachs Urban Investment Group for 12 years, during which she invested more than $3 billion to build 2 million square feet of commercial and retail space, 1.3 million square feet of community space and 13,000 housing units nationwide. She's best identified in the city for Goldman's backing of Citi Bike and Brooklyn Navy Yard, as well as for her previous tenure as an assistant commissioner at the city's Department of Housing, Preservation and Development under Mayor Bloomberg. "People I speak to think she's creative and talented," Mr. Spinola said.
The reappointment of Mr. Kimball, who has held the position since July and worked at the EDC since 2008, came as a surprise to observers who expected the mayor to completely clear his predecessor's team. But Mr. Kimball has shown he has staying power atop the EDC despite the changeover.
"It's our charge to do everything in our power to address rising inequality," he said in a statement the day Mr. de Blasio announced his reappointment. "We will do it by making every economic development dollar go further and by investing in new career paths and emerging industries that will lift New Yorkers up in every community."
Mr. Kimball also worked for Goldman Sachs previously, and, while the EDC declined requests for comment, Mr. Kimball has indicated in interviews that he now supports the "living wage" bill supported by Mayor de Blasio and Speaker Mark-Viverito. The proposal would boost wages to at least $10 per hour with benefits or $11.50 per hour without benefits at developments that receive city subsidies, and it's expected to be one of the first items of business in the new council.
Mr. Spinola, who favors raising the general minimum wage, says the living wage idea threatens consistency for potential tenants, "because now they have to pay more in one building than the other."
The wage issue is one of several that will test how the city's real estate community gets along with the new mayor. The eventual commissioners of the City Planning Department, the Landmarks Preservation Commission and the Department of Buildings will need to broker working relationships with the industry, but it's not clear when Mayor de Blasio will announce his picks. There may be some virtue in taking time to make the decision about the best people to take on the fraught role of balancing new and existing projects against political winds.
"It's something that really affects not only the industry, but also the quality of life in the city," said Ms. Consolo. "So I think, you know what, 'difficult' takes a little longer."
For now, REBNY members are embracing the new administration and setting criteria for Mayor de Blasio's success based on the current conditions.
"It all boils down to the state of the economy and the health of the city," Mr. Smith said. "As long as de Blasio will keep up the pace, then the rest of us will be supportive."