Pasta Maker's U.S. Subsidiary Moves Downtown
---
---
De Cecco USA, the U.S. subsidiary of Italian pasta maker De Cecco, has signed a 10-year, 5,596-square-foot lease at 75 Broad Street, The Commercial Observer has learned.
The tenant will relocate from 120 East 42nd Street to the fourth floor of 75 Broad Street and pay in the mid-$30s per square foot after five months of free rent, according to data from CompStak.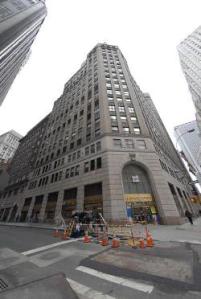 "The search started in Midtown but we ended up Downtown because of economics," said Ken Beilin, principal of Beilin Commercial, who represented the tenant. "Most importantly, it was an upgrade to a renovated Class A building that offered a high end installation and building amenities that they did not have at their current property, along with being eligible for Downtown Tax incentives."
The tenant, also known as Prodotti Mediterranei Inc., is expected to move in by April 1.
Frank Cento, executive director at Cushman and Wakefield, who represents JEMB Realty, the landlord, also confirmed the deal but could not immediately be reached for further comment.
Asking rent for the fourth floor at 75 Broad Street was $35 per square foot, according to a marketing flyer available on 42Floors. The property is in the midst of an elevator modernization program, according to the flyer, and boasts new common areas on multi-tenanted floors, among other features.
Mr. Cento represented the landlord alongside Peter Cento and Carlos Suarez. 
120 East 42nd Street
,
42Floors
,
75 Broad Street
,
Beilin Commerical
,
Carlos Suarez
,
CompStak
,
De Cecco
,
De Cecco USA
,
Food & Drink
,
Frank Cento
,
JEMB Realty
,
Ken Beilin
,
Peter Cento
,
Prodotti Mediterranei
,
Cushman & Wakefield