J.P. Morgan's Priscilla Almodovar Takes Banking on Community to New Heights
---
---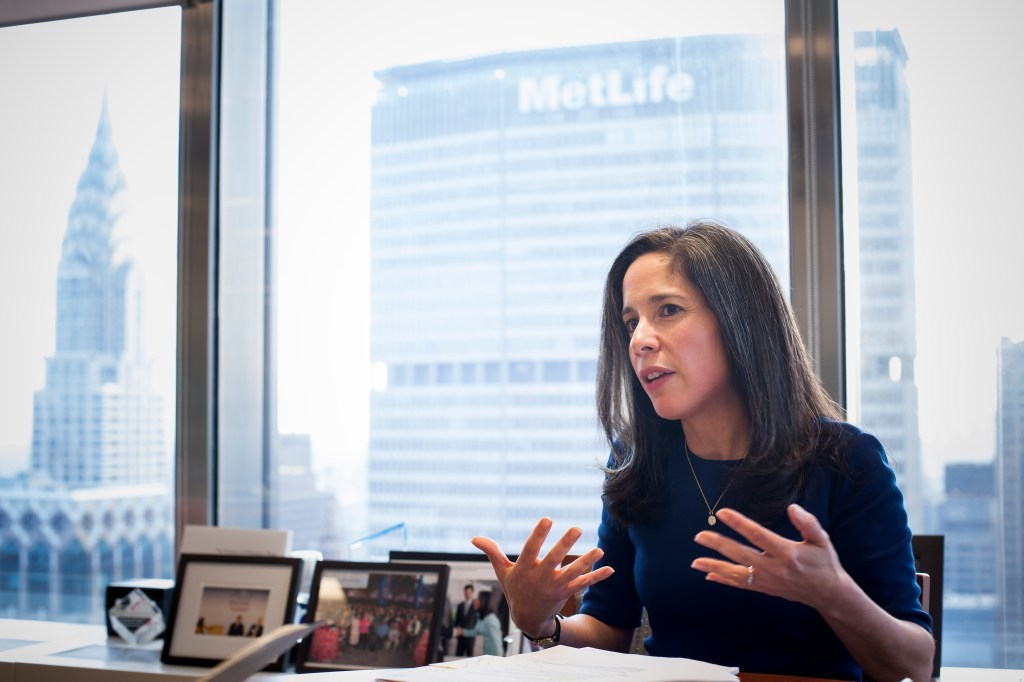 A first-generation American daughter of Puerto Rican parents, Priscilla Almodovar has a corner office with jaw-dropping views on the 45th floor of a Manhattan skyscraper—home to one of the most powerful banks in the world. The native of Sunset Park, Brooklyn, is working tirelessly to deploy J.P. Morgan Chase's colossal balance sheet in the section of the real estate world she's most passionate about: the less-than-glamorous but increasingly important affordable housing industry.
"I am exhibit A for the American dream," Ms. Almodovar told Mortgage Observer during an interview at her office in January.
As a managing director and head of community development banking at J.P. Morgan Chase, Ms. Almodovar is one of the most powerful women in the commercial real estate market. And she's not afraid to use that platform to push for more inclusion of women in the work force.
"I can't wait for the day when we don't have to talk about women's issues. That's when girl power has truly arrived," she said. "Until then, we will continue to talk about it."
A former partner at white shoe law firm White & Case and official in the Spitzer administration, Ms. Almodovar believes she is proof of the great amount of progress that has already come for women.
"I am so optimistic. Every year, it gets better," she said while rattling off the names of newly powerful women in finance, such as Federal Reserve Chair Janet Yellen, General Motors Chief Mary Barra and J.P. Morgan Chief Financial Officer Marianne Lake.
"Even at my age, when I see a woman reach that level of success, it makes you think, 'Gosh, maybe I can do that," said Ms. Almodovar, who is 46.
Asked if Wall Street will see its first female CEO in the next decade, Ms. Almodovar said, "Absolutely."
"Women need to be at the table when decisions are being made about other women. Companies that value that perspective make better decisions, because we're half the population," she said.
But the Columbia Law School grad also feels passionately that more work needs to be done to advance women, especially into the highest ranks of the financial and legal worlds.
Women make up 54.2 percent of the work force in finance but represent only 12.4 percent of the executives and less than 1 percent of the CEOs, according to a 2013 report by employment research firm Catalyst. In the legal world, women represented just 23 percent of the equity partner promotion committees as of 2011, according to a report by the National Association for Female Executives and Flex-Time Lawyers.
As a mother of two children, Ms. Almodovar knows firsthand how difficult it can be for women to balance their professional and home lives. She credits a "very supportive" husband, "unbelievable" in-laws—who conveniently live two blocks away in the Village—and a supportive employer.
"My secret is I work very close to home" and try not to "sweat the small stuff," she said. "If I need to work 24/7 to get something done, my employer knows I will, but if I need to go to my children's assembly, I can do that too."
On top of being a powerful advocate for women, Ms. Almodovar was recently named one of the 100 Most Influential Hispanics in the U.S. by HispanicBusiness.com. At White & Case, her Latin heritage was seen as a real strength, allowing her to conduct business with the firm's Spanish-speaking clients. In fact, Ms. Almodovar leveraged her diverse background and infectious enthusiasm by traveling to Chile for a long-shot attempt at landing a new client when few other partners wanted to make the trek. She ended up winning the business of the Chilean company, which turned out to be owned by a Spanish conglomerate that became a major client of White & Case. This became a coveted piece of Ms. Almodovar's legacy at the firm.
"It showed she was willing to step into something that was outside her comfort zone," said Maureen Brundage, general counsel at Chubb Group and a former White & Case partner.
At first, Ms. Almodovar questioned why her background was an issue at all. But later in her career, she realized she had a responsibility as a role model to help dispel biases and mediate cultural differences.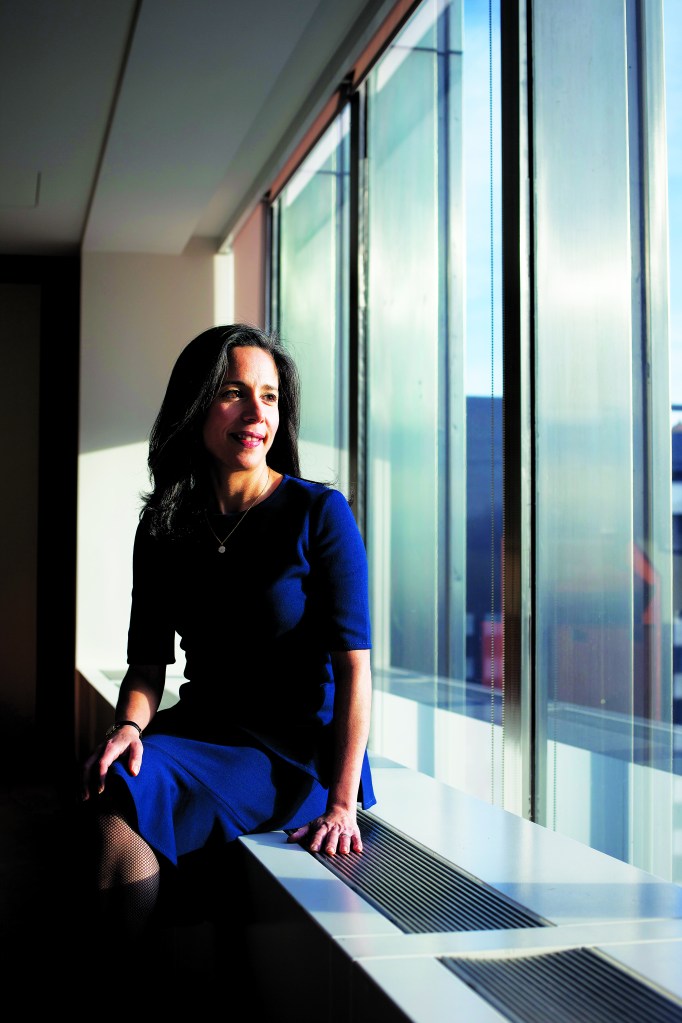 "As I've gotten older, I've embraced it a lot. I'm very proud of my heritage," said Ms. Almodovar.
Perhaps this background helps explain Ms. Almodovar's unbridled enthusiasm for affordable housing. She doesn't even try to hide the smile that washes over her face when speaking about Via Verde, an award-winning development project in the Melrose section of the Bronx that cost $99 million to build and is a joint venture between Jonathan Rose Companies and Phipps Houses. J.P. Morgan provided $73.6 million of financing for the project, which has 151 units of mixed-income rental housing, 71 affordable co-op units, 7,200 square feet of retail and community space, solar panels and rooftop gardens.
And then there's the East Harlem Center for Living & Learning, a development under construction in East Harlem that is set to feature 89 units of affordable rental housing, 5,800 square feet of office space for Harlem RBI, a sports-related nonprofit, and 45,000 square feet for a K-8 charter school. Monthly rent for the one-bedroom, one-bathroom apartments ranges between $533 and $855, compared with average market rates of about $2,200. Harlem RBI is being developed by Jonathan Rose Companies, which recently closed on a financing deal with J.P. Morgan worth $27 million.
The bank has also deployed capital to help finance rehabilitation projects, such as four buildings on Crescent Avenue in the low-income University Heights section of the West Bronx. Ranked No. 5 on the city's list of the 100 most distressed properties, the buildings had badly deteriorated and were marred by leaks and mold. J.P. Morgan and Morgan Stanley (MS) recently agreed to provide $14.6 million for this $28.6 million project, which is currently under construction.
"In New York City, there's only so much land," Ms. Almodovar pointed out. "We've got to fix what's there and make sure it doesn't come out of what's affordable."
Ms. Almodovar's biggest clients include developers such as Jonathan Rose Companies, Dunn Development Corp. and Ron Moelis' L+M Development Partners. She also works closely with nonprofits such as Phipps Houses, Self Help Community Services, Common Ground and Fordham Bedford Housing Corporation.
"The developers in New York City are not faint of heart. They will take on any challenge—and the resources are there," said Ms. Almodovar.
Ms. Almodovar knew little about affordable housing before 2007, when she became president of the New York State Housing Finance Agency, which provides financing to for-profit and not-for-profit developers to construct affordable housing and rehab existing properties.
"Within 90 days, she understood all of the major issues facing the state of New York and the country as it relates to affordable housing," said Judd Levy, who served as chairman of the agency during Ms. Almodovar's tenure. "It was remarkable to see someone go from zero to 60 in such a short time. It was all because of her energy and her intellect."
Colleagues credit Ms. Almodovar with bringing credibility and a sense of direction to the agency.
"The agency up until that point hadn't been seen as a real engaged partner in the affordable housing community. She made sure she changed the way people perceived us," said Marian Zucker, who worked with Ms. Almodovar at the agency. "Her energy was infectious and ultimately transformative to the organization."
"When you're in government, you drive behavior based on a need," Ms. Almodovar said of her time at the agency.
The need Ms. Almodovar saw was stable and safe housing for the thousands of low-income families that live in the state.
"You get hooked very quickly with affordable housing. It's just as complex and just as tangible as any ground-up development, but you have the added benefit of addressing a very critical need," Ms. Almodovar said.
According to the advocacy group Community Service Society, 30 percent of New York City households spend more than half of their income on rent. At the same time, the group also said that, between 2002 and 2011, there was a 39 percent drop in the total number of apartments, including subsidized ones, affordable to a family with an income at 200 percent of the federal poverty line.
Low-income housing projects used to be considered public housing that was government owned, but today these developments are largely owned and managed by private investors who are incented by the government to step in. That explains why today's affordable housing developments don't look or feel like the public housing projects of the 1960s.
Under the Community Reinvestment Act of 1977, banks are expected to help meet the financing needs of the communities in which they operate, including low- and moderate-income neighborhoods. Federal regulators enforce this legislation by examining lenders' CRA financing track record when weighing approval of mergers, charters and branch openings.
The federal government also encourages banks to make affordable housing financing available by providing lucrative tax credits. These credits are allocated to the states and then awarded to developers who raise capital or equity by selling them to investors, including big banks such as J.P. Morgan, Citigroup (C) and Wells Fargo (WFC). Thanks to the tax credits, these properties have lower amounts of debt, allowing the owners to charge below-market rents and still generate a profit. In New York City, the difference between market-rate rent and affordable rent can be 50 percent to 60 percent.
Ms. Almodovar, in fact, said that affordable housing is the best-performing asset class in commercial real estate in terms of occupancy and foreclosure rates.
Today, roughly 90 percent of housing built for low-income families and seniors originates from low-income housing tax credits from the federal government.
Other credits include the new market tax credit, which was established by Congress to drive the creation of nonhousing projects such as clinics, grocers, charter schools and commercial space. This federal program has allocated more than $36 billion in tax credit authority since its inception in 2000.
Ms. Almodovar joined J.P. Morgan in 2010, the bank has provided roughly $3 billion of equity investments in economic development projects in low-income housing and almost $5 billion in lending for housing affordable to low-income families and seniors in more than 80 different cities.
J.P. Morgan focuses its affordable housing efforts on its biggest retail markets, which include California, Chicago, Columbus, Houston, New York and Seattle.
"We're going to be in these communities for a long time," Ms. Almodovar reflected. "It's in our interest to make these neighborhoods better neighborhoods."
Catalyst
,
Columbia Law School
,
Common Ground
,
Community Service Society
,
Dunn Development Corp.
,
East Harlem Center for Living & Learning
,
Fordham Bedford Housing Corporation
,
Harlem RBI
,
Janet Yellen
,
Jonathan Rose Companies
,
Judd Levy
,
L+M Development Partners
,
Marian Zucker
,
Marianne Lake
,
Mary Barra
,
Maureen Brundage
,
MO February 2014
,
National Association for Female Executives and Flex-Time Lawyers
,
New York State Housing Finance Agency
,
Phipps Houses
,
Priscilla Almodovar
,
Self Help Community Services
,
Via Verde
,
White & Case
,
Citigroup
,
JPMorgan Chase
,
Morgan Stanley
,
Wells Fargo