HFF's New York Office Still in Growth Mode as Michael Tepedino Starts Seventh Year at the Helm
---
---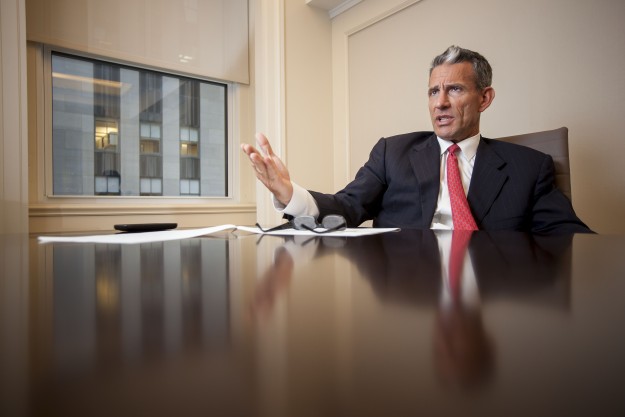 When HFF's New York office negotiated its first major deal in 1998, Michael Tepedino, a recently hired broker at the time, and his colleagues called on Cigna, an "old-line relationship" that one of them knew on the life insurance side of the business.
The borrower, SL Green (SLG) Realty Corp., was by no means desperate to find a lender.
"We literally had to beg them to give us a little garment center building at 1412 Broadway. It was a $50 million deal," Mr. Tepedino told Mortgage Observer on a brisk December morning in Midtown. "We begged, groveled and said, 'You have to do this for us.'"
That deal paid off, not just for the sake of revenue but also for the sake of establishing an outline of a reputation. HFF was nationally known but held little weight in the local New York market, Mr. Tepedino noted. "Fifty-million bucks, and we thought we'd hung the moon," he said with a laugh. "That's how it started. We didn't know anybody."
HFF's New York office, which the Texas-based mortgage banking firm opened in 1996, has since grown its annual debt business from $600 million to $3.6 billion at year-end 2012 and rising. Over the same 17-year span, the office at Rockefeller Center has upped its head count from two employees to 26 deal-makers and support staffers. By comparison, HFF's 22 national offices, combined, ended 2012 with $23.4 billion in debt business and a head count of 574 employees around the country.
Establishing the New York brand took patience in addition to time, "starting with smaller deals and gradually gaining people's trust and confidence," Mr. Tepedino explained. "We came into the intermediary space in the most highly competitive brokerage community in the country," he said. "New York in 1996 needed another mortgage broker like a migraine headache. There were more competitors here than any place in the U.S., and there still are."
Mr. Tepedino was promoted to senior managing director and head of HFF's New York office in late 2007. At that time, about 25 percent of the office's brokerage business was based in the city, with the remainder in other major U.S. markets. By 2013, the portion of New York-based deals had grown to about 60 percent.
"When I took over, I said to my team, 'We're doing well, but a lot of our guys are still focused outside of New York,'" Mr. Tepedino said. "They were working with New York clients, but the deals they were working on were in Cincinnati and Chicago and other cities outside of the local market."
The New York office was "kind of HFF's Achilles' heel" and "had never been that strong," said Edward Coco, senior managing director and U.S. national sales leader at GE Capital Real Estate. "Mike has taken the office to a different level," he told Mortgage Observer. "His personality and style has been critical to HFF getting established in New York, since he's a prototypical New Yorker."
Upon taking the helm, the 50-year-old Sunset Park, Brooklyn-native, who got his start in the commercial real estate business at Traveler's Insurance Company in 1987, introduced two disciplines. The first was to exponentially focus his team's attention and energy on New York-centric deals in Manhattan and the outer boroughs. The second was to steer his colleagues away from the stereotypical lone-wolf broker mentality.
"I told them, 'It's not about the individual broker; it's about the client,'" the husband and father of four said. "We're all brokers, and we all make money doing deals, but at the end, it's about a team-oriented atmosphere and a client-service business. Make sure the client's happy, and then worry about how to staff a particular deal with the right people."
Focusing more exclusively on the New York market with a greater emphasis on client service helped increase the size of the office's average deals, both in New York and other parts of the country, in turn helping to raise HFF's profile in the country's most populous city. Mr. Tepedino's group, which competes locally with Cushman & Wakefield, CBRE, Jones Lang LaSalle, Meridian Capital Group and Eastdil Secured, has since done business with Tishman Speyer, Blackstone Group, J.P. Morgan Chase, RXR Realty and other top real estate owners, operators and lenders inside and outside of the city, he noted.
Mr. Coco, who works out of Atlanta, has closed several transactions through HFF's New York office, including a $940 million deal in May 2008 to recapitalize a portfolio of industrial property loans held by iStar Financial. "That was a critical loan for iStar to get done at that point in time, because the markets imploded six months later," said Mr. Coco, a fellow New York-native who met Mr. Tepedino in 1996 after joining GE's lending business. "That loan turned out to be great loan for us, iStar and HFF. iStar paid it off in two years."
1515 Broadway
,
340 Madison Avenue
,
Andrew Scandalios
,
CIGNA
,
Cornerstone Real Estate Advisers
,
Edward Coco
,
HFF
,
Isaac Zion
,
Michael Maturo
,
Michael Tepedino
,
Rockefeller Center
,
Traveler's Insurance Company
,
Viacom
,
Bank of China
,
Deutsche Bank
,
RXR Realty
,
Safehold
,
SL Green