Former Bacchus Wine Location Hits the Block
---
---
Winick Realty Group is bringing a retail space at 2056 Broadway, between West 70th and West 71st Streets, to the market on behalf of the Brodsky Organization.
The retail at 2056 Broadway consists of a 900-square-foot ground floor and a 1,900-square-foot storage basement with 25 feet of frontage along Broadway.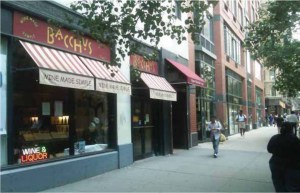 The space, formerly occupied by a Yapple Yogurt, and prior to that a store operated by Bacchus Winery under the name Bachuss Wine Made Simple, offers an opportunity for an incoming tenant to join prominent local and national chains that include Starbucks, Duane Reade, Pinkberry, Sabon, Chase Bank, HSBC, Bank of America and Trader Joe's.
The 72nd Street subway station, which brings commuters on the 1, 2 and 3 train lines, is one block away from the location, which is also within walking distance of the Triad Theatre and the Seventieth Street Playground.
New York City-based Winick Realty Group specializes in the retail space and won several notable assignments last year.
In December the firm was selected by Brookfield Office Properties to exclusively market 40,000 square feet of vacant sub-level retail space at One New York Plaza; and over the summer Related Companies selected the firm to exclusively market four newly-constructed retail spaces that will anchor a 34-story luxury residential building at 500 West 30th Street.
Most recently the firm represented Duane Reade in its renewal of a 14,000-square-foot space at 198-15 Horace Harding Expressway in Queens.
Winick President Steven Baker wasn't available for comment in time for publication.   
Bacchus Winery
,
Bachuss Wine Made Simple
,
Brodsky Organization
,
Chase Bank
,
Duane Reade
,
Pinkberry
,
Sabon
,
Seventieth Street Playground
,
Starbucks Coffee
,
Winick Realty Group
,
Yapple Yogurt