Tilden Park Capital Management Inks at 452 Fifth Avenue
---
---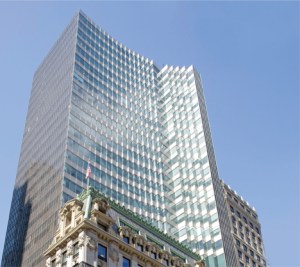 Tilden Park Capital Management, the fixed-income-focused alternative asset manager, will move its headquarters from 900 Third Avenue to the PBC USA Real Estate-owned 452 Fifth Avenue. 
The firm will take the entire 28th-floor penthouse, spanning approximately 16,140 square feet, to house its corporate offices and business operations. The deal comes after the unveiling of the last three penthouse floors at the 865,000-square-foot Class A building with asking rents over $100 per square foot.
The penthouses were recently renovated through the building's multimillion dollar capital improvement campaign. 
"The Tilden Park lease is just the latest example of the high-profile financial industry companies that have made 452 Fifth Avenue their headquarters over the past two years," said Alicia Popper, senior vice president of leasing and construction at PBC USA Real Estate, in a prepared statement. "With the completion of this major deal we now only have the top two penthouse floors available for lease at the property. Given the success we have enjoyed thus far, we do not anticipate this unique space to be on the market for long."
Ms. Popper work alongside its exclusive leasing team from CBRE consisting of Craig Reicher, Howard Fiddle, James Ackerson, Zachary Freeman, Sinclair Li and Greg Maurer-Hollaender. CBRE's Ben Friedland and Silvio Petriello and Daniel Madison of Newmark Grubb Knight Frank were on the opposite side of the table representing Tilden Park Capital Management.
"We are thrilled to welcome Tilden Park to the building," added Ehud Elizur, president of PBC USA Real Estate, in the statement. "Tilden's commitment is further confirmation that 452 Fifth Avenue's strategic location overlooking Bryant Park, panoramic views, and superior amenities are attracting the 'Who's Who' of the financial services world."
Alicia Popper
,
Craig Reicher
,
Ehud Elizur
,
Greg Maurer
,
Howard Fiddle
,
James Ackerson
,
Lease Beat
,
PBC USA Real Estate
,
Sinclair Li
,
Tilden Park Capital Management
,
Zachary Freeman