The Biggest Brooklyn Leases
---
---
West Elm's 150,000-square-foot lease at 55 Water Street in Dumbo was the crowning Brooklyn deal of a year when the big-boy developers seemed to (belatedly) pounce on Kings County all at once.
News of the deal in early September followed an announcement that Midtown Equities, in partnership with Rockwood Capital and HK Organization, had clinched the sought-after project of converting the 327,000-square-foot Empire Stores site on Water Street—once a coffee and dry goods warehouse—into a gilded office and retail complex. West Elm's lease was the biggest in Brooklyn this year, and at an address whose reported penthouse office space asking rent, $90 per square foot, set a borough record.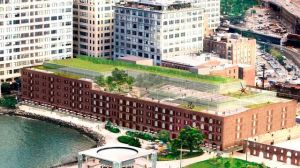 Early reports of the deal did not disclose the brokers involved. But sources tell The Commercial Observer that Chase Welles of SCG Retail was the key architect of the transaction. And while they praise Mr. Welles' real estate acumen, there is some speculation that the deal was undervalued.
Real estate insiders peg West Elm's rents at anywhere from $40 to $52 per square foot, which is well above the Dumbo average (roughly $34, per the Daily News), but less lofty than that top-floor figure and average Empire Stores asking rents of $60 per foot. A source who was not involved with the deal said that West Elm signed a letter of intent and request for proposal simultaneously, which somewhat helped keep asking rents at bay.
Mr. Welles and representatives for Midtown did not return requests for comment. But Midtown Chairman Joe Cayre is said to be looking at tech companies and, this being Brooklyn, food and craft artisans to fill the remaining space at his $150 million project. The homespun e-marketplace Etsy is one rumored tenant for the property, which as of late summer was reportedly 80 percent leased.
Elsewhere in Brooklyn, although seemingly a world away from the small-batch retailers expected to fill Empire Stores, two of the year's blockbuster leases involved Related Companies' Gateway II shopping center. The faltering J.C. Penney announced a 124,000-square-foot deal there at the start of the year, and ShopRite inked a 90,000-square-foot transaction there the next month.
Big-box stores competed with big-muscle generators in Brooklyn as Crunch Fitness signed a 22,000-square-foot lease for a three-story gym at 842 Lefferts Avenue in Crown Heights, a once-seething neighborhood some have tipped as the next Williamsburg (or Greenpoint or Bushwick or Bed-Stuy). Meanwhile, the cult-like fitness crowd darling Tough Mudder subleased 70,920 square feet worth of office space at 15 Metrotech Center in rapidly changing Downtown Brooklyn.
Tough Mudders' fellow new kids on the block will include Brooklyn Friends School, which signed a 45,000- and 40,000-square-foot leases, respectively, at 1 Metrotech Center. Gym rats and parents on their way to pick up their kids should enjoy Nordstrom Rack when it opens at Fulton Mall, not far from Metrotech. The discount chain picked up 41,000 square feet there as that vital Brooklyn commercial vein, for better or worse, continues to welcome a slew of national retailer