LPC Slams Empire Stores Plan
---
---
The Landmarks Preservation Commission has sided with Dumbo residents who oppose Midtown Equities' current plans for the $150 million Empire Stores project.
Criticism centered around designs for the marquee development's rooftop that include a two-story glass-walled structure and large bulkhead.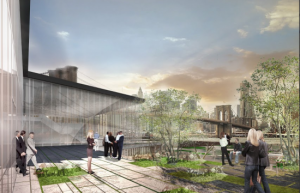 "I am troubled by its generic quality," Commissioner Michael Goldblum said at a hearing in Manhattan last week. The LPC, which plays an advisory role on development matters like this, will compose a report containing the groups concerns while the State Historic Preservation Office renders final judgment on the Empire Stores project.
Midtown Equities won the coveted 327,000-square-foot Empire Stores redevelopment in August and had reportedly secured leases for 80% of the site by the end of the summer. West Elm's 150,000-square-foot lease there was the biggest in Brooklyn for the year.
Representatives for the LPC declined to comment, due to a policy barring commissioners from discussing pending cases with the press. Reps for Midtown Equities could not immediately be reached for comment.
One supporter of Midtown Equities and Studio V's design was departing Kings County Borough President Marty Markowitz. He wrote in a letter that designs for the long-vacant waterfront warehouse site transform it "from blighted eyesore to eye-catching icon."