Lower Manhattan Only Submarket With Positive Net Absorption: Report
---
---
A Cushman & Wakefield report found that in the third quarter Lower Manhattan was the sole major office submarket to register positive net absorption.
A total of 523,000 square feet of office space was absorbed, a figure aided by  a 2.8 percent jump in October leasing activity from year-ago levels. "Downtown is its own success story," Tara Stacom, an executive vice chairman at C& W, said in a prepared statement. "Registering more than a half of a million square feet of positive absorption during the third quarter is remarkable. Lower Manhattan has re-invented itself as a 24/7 hub where creative and innovative companies can flourish."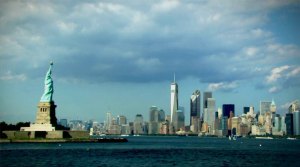 Average asking rents increased 14.8 percent, to $45.66 per square foot, during the period, thanks largely to  "non-financial tenants relocating from Midtown and Midtown South." Meanwhile, the residential population of Lower Manhattan swelled to over 63,000 people. The top leasing sectors were Information/Media (20.5 percent of leasing activity) and Government, Education, and Social Services (20.1 percent).
The third quarter's absorption totals were the highest for the submarket since the second quarter of 2011. The vacancy rate settled at 10.9 percent while availability declined by 6 percent. "For perhaps the first time in its history," Ms. Stacom said, "Downtown is increasingly being seen as a tenant's most desired option."